In his first public comments on a suspected plot to kill the Saudi ambassador to the U.S., President Obama said Thursday that the scheme was "part of a pattern of dangerous and reckless behavior" by Iran.
"This is not just a dangerous escalation," Mr. Obama said at a joint White House news conference with South Korean President Lee Myung-bak. "This is just one example of a series of steps that they've taken to create violence and to behave in a way that you don't see other countries doing."
Mr. Lee, in the midst of a five-day visit to Washington that includes a state dinner and address to Congress, also condemned the reported terrorism plot, saying his government was "deeply shocked."
Some members of Congress have called on the Obama administration to take a harder line with actions that include the expulsion of Iranian diplomats. Mr. Obama said his administration would continue "to apply the toughest sanctions" and "continue to mobilize the international community" to further isolate Iran.
The president defended that path as the most effective option.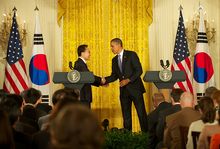 "Keep in mind that when I came into office, I think Iran saw itself as being able to play various countries against each other and avoid the kind of isolation that it deserved," Mr. Obama said. "Since that time … more and more countries have been willing to speak out in forceful ways, whether through the United Nations or through other avenues, to say this is not acceptable behavior. And it is having an impact — Iran's economy is in a much more difficult state now than it was several years ago."
U.S. officials this week charged Mansour Arbabsiar, a U.S. citizen, and Gholam Shakuri, an official in Iran's Qods Force religious militia, with trying to hire a hit man from a Mexican drug cartel to bomb an unspecified D.C. restaurant that the ambassador was known to frequent.
Mr. Obama said the U.S. government knows Mr. Arbabsiar "had direct links, was paid by, and directed by, individuals in the Iranian government."
"Those facts are there for all to see," Mr. Obama said.
The South Korean leader addressed a joint session of Congress on Thursday afternoon before returning to the White House for the fifth state dinner for a foreign leader hosted by Mr. Obama.
On the subject of another belligerent nation, Mr. Obama and Mr. Lee pledged to keep working to contain North Korea's nuclear ambitions, although neither leader offered specifics.
"There's a great similarity between how Iran operates and how North Korea operates, a willingness on their part to break international rules, to flout international norms, to not live up to their own commitments," Mr. Obama said. "And each time they do that, the United States will join with its partners and allies in making sure that they pay a price."
Mr. Lee said his country and the U.S. would continue to apply a "principled approach" toward North Korea.
"We speak with one voice," Mr. Lee said. "For North Korea, the only way to ensure happiness for its people and to embark on that path to development is to abandon its nuclear ambitions. And so we have tried through peaceful means, through diplomatic means to strongly urge North Korea to abandon its nuclear ambitions."
Mr. Obama welcomed Mr. Lee to the White House under a steady drizzle in a South Lawn ceremony filled with military pomp. Both leaders hailed the congressional passage of a long-awaited free-trade agreement between South Korea and the U.S. on Wednesday night. Along with similar deals approved with Panama and Colombia, the accord marks the first major trade legislation of Mr. Obama's presidency and the biggest market-opening deal since the 1994 North American Free Trade Agreement with Mexico and Canada.