Seniors will receive a 3.6 percent Social Security cost-of-living increase next year, the first since 2009, signaling that consumer prices are rebounding even as the economy remains sluggish and unemployment is high.
The increase was welcomed by seniors' advocates who complained that beneficiaries were slighted in the past two years. But they said the increase was small and some of it will be wiped out by rising health care costs under Medicare.
"This [cost-of-living adjustment] will help to ease the financial hardship many older Americans face today," said Nancy LeaMond, an AARP spokeswoman. "Unfortunately, the increase announced today will not completely ease their burden. Medicare premiums are also expected to rise for many."
The average annual payment will rise $516, to $14,748, even as lawmakers on Capitol Hill consider changes to the formula to try to squeeze savings out of the program. Some lawmakers say using a different definition of inflation could save trillions of dollars in future decades and could help set the program on firmer financial footing.
The higher payments begin in January. The Social Security Administration has not offered a cost-of-living adjustment since 2009, when the index used to calculate payouts fell amid the thick of recession.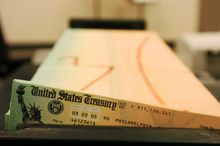 Also adjusted for inflation, the maximum income that can be taxed for Social Security benefits will increase to $110,100 from $106,800. Of the 161 million working Americans who will pay Social Security taxes next year, 10 million will pay more because of the increase, the administration estimated.
The cost-of-living allowance (COLA) is a powerful political issue, and President Obama and members of Congress fielded questions from voters over the past two years about why there was no increase.
Many of them point to the formula, written into law, that says the amount of any increase depends on average prices for goods, such as gas, food, utilities and health care and whether costs had inflated since the previous adjustment. Until the recession slowed and even reversed inflation a few years ago, Social Security payments had increased every year since 1975, when Congress first approved automatic cost-of-living allowances.
More than two years after the recession officially was declared over, inflation has pushed back average prices at least to 2008 levels, prompting the cost-of-living adjustment. Although that's good news for seniors, it doesn't mean the economy is anywhere close to recovery, said Paul Van de Water, senior fellow with the Center for Budget and Policy Priorities.
"The unemployment is still over 9 percent — that is certainly the key indicator and that's not moving much these days," Mr. Van de Water said.
He attributed most of the inflation to gas prices, which have risen 33 percent since last year.
"The core inflation rate continues to be much lower, reflecting the fact that spending and the economy is depressed," Mr. Van de Water said.
Some Democrats tried in 2009 and 2010 to try to enact one-time COLA increases, even though prices weren't increasing according to the formula.
They blamed the GOP for blocking those efforts.
Now, some Democrats want the formula to be adjusted specifically for seniors, which would offer more generous benefit increases in future years.