For a city buried under more than $300 million in unpayable debt, even the holiday season can't provide relief.
Officials in Harrisburg, Pa., announced Friday that the annual November parade, a tradition in the Keystone State's capital since 1986, has been canceled owing to a lack of money.
It's the latest blow to a proud city of almost 50,000 that now stands on the edge of bankruptcy and likely will turn over its troubled checkbook soon to state lawmakers, the last resort after years of poor investment and political infighting.
With Mayor Linda D. Thompson and the City Council unable to resolve long-standing differences and reach a compromise, Gov. Tom Corbett on Thursday signed legislation giving state officials power over Harrisburg's finances. If the city doesn't come up with a financial-recovery plan that meets the state's approval within 30 days, Mr. Corbett will appoint a receiver to oversee Harrisburg's climb out of the red.
"I remain a strong proponent for municipal governments tackling their own problems and coming together to develop a fiscal-recovery plan when necessary," Mr. Corbett said. "But when that fails to happen, the state has to take action to ensure public safety."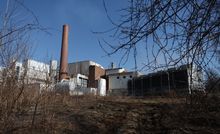 Harrisburg's financial decline has accelerated in recent years, but the seeds of bankruptcy were sown nearly 40 years ago. In 1972, the city constructed its infamous incinerator, designed to convert trash into energy and, in theory, pay for itself.
Instead, the project repeatedly violated environmental regulations and became a multimillion-dollar black hole, never generating revenue as its proponents had hoped and leaving the city owing hundreds of millions of dollars in loan and bond costs and other expenses.
A $125 million retrofit in 2003 only compounded the problem, and the plant, seen by many as a symbol of the city's political and financial mismanagement, has put Harrisburg under a crushing $310 million debt burden and made it the first state capital to go "belly up" in at least four decades.
"It's really all about the incinerator, all about poor management," said Bev Cigler, a professor of public policy and administration at Penn State University's Harrisburg campus and a specialist in local and state government finances. "There's just no way that you can compromise your way out of millions of dollars of payments" owed on the incinerator.
But many think the incinerator isn't the only culprit. Ms. Thompson, a Democrat who became mayor in January 2010 and replaced 28-year incumbent Stephen R. Reed, has taken much of the heat for Harrisburg's collapse. Many key members of her staff have quit over the past 12 months, citing the mayor's combative attitude as one of their reasons.
After resigning in February, former Thompson spokesman Chuck Ardo told the Patriot-News of Harrisburg that the mayor "needs to accept responsibility, and more than that, she needs to understand that people who disagree with her are not enemies. They are her political opponents."
But Robert Philbin, a spokesman for Ms. Thompson, told The Washington Times on Friday that "the mayor has tried repeatedly" to work out a compromise, but has been rebuffed each time by "council members who continually reject plans presented to them" for political reasons.
He cited frequent clashes between Ms. Thompson and city Controller Dan Miller, who plans to challenge the mayor in 2013, as an example of officials unwilling to work with the mayor because they think it will help them at the ballot box if the Thompson administration fails. Many others have claimed the opposite and accused Ms. Thompson of being incapable of dealing with the city's issues.
Regardless of who is at fault, Mr. Philbin said that in better financial times Harrisburg may have avoided at least some of its problems, but the Great Recession and deep state budget cuts have made matters worse.
Rep. Tim Holden, a Democrat who represents Harrisburg and who is known for procuring federal money for local projects, said last week that the nation's fiscal distress makes it all but certain that no financial savior will ride to Harrisburg's rescue.