Male Islamic militants dressed as women in head-to-toe burqas infiltrated the heart of the Afghan capital on Tuesday and attacked the U.S. Embassy and NATO headquarters, using weapons smuggled in truckloads of construction material, a senior Afghan security official said.
The meticulous planning behind the attacks is the hallmark of Pakistan-based Islamic terrorists known as the Haqqani Network, according to two Afghan officials and a U.S. analyst.
The coordinated attacks in some of the most strongly defended parts of Kabul killed seven Afghans and wounded 15 others. Six terrorists also were killed.
Heavily armed militants launched their attacks after taking over a partially constructed building overlooking the U.S. Embassy compound. Suicide bombers struck other buildings in the city.
The Afghan security official, who spoke on the condition of anonymity, said the militants appeared to have smuggled rocket-propelled grenades and AK-47s under truckloads of construction material bound for the site.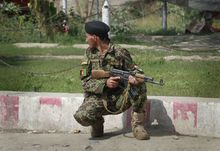 He said the militants wore burqas - a traditional Islamic veiled garment women wear to cover their bodies - to infiltrate the construction site.
The attack bore the fingerprints of the Pakistan-based Haqqani terrorist network, according to Jeffrey Dressler of the Institute for the Study of War, who has extensively studied the Haqqani Network, and the Afghan official.
"Anytime you see this level of sophistication, it is almost guaranteed that it is the work of the Haqqanis," said Mr. Dressler.
He said the network may have used individuals from two other militant groups - Hizb-e-Islami and the Quetta Shura Taliban in Pakistan - to execute some part of the operation.
Hizb-e-Islami, the Pakistani Taliban and the Haqqani Network together form the Afghan Attack Network.
Sediq Sidiqqi, a spokesman for the Afghan Interior Ministry, told The Washington Times in a Twitter message that the attack was similar to those carried out by the Haqqani Network.
"It is early to say that this attack is the work of Haqqani, but it is similar to attacks carried [out] by Haqqani," he said.
As many as seven terrorists were thought to have taken part in the operation. Late on Tuesday night, Mr. Sidiqqi said one terrorist was still alive, but he "soon will be killed by police."
A Taliban spokesman claimed his group was behind the assault, the third such attacks in the Afghan capital since June.
The Taliban had also claimed responsibility for an attack at a NATO military base on Saturday that killed four Afghans and injured 77 U.S. troops. However, a Pentagon spokesman on Monday said the attack in Wardak province, 30 miles south of Kabul, had been carried out by the Haqqani Network.