The Pentagon is bracing for some cutbacks in military and other cooperation efforts with China as a result of a new arms package for Taiwan, expected to be announced formally this week.
China likely will cut off several military exchanges with the U.S. Pacific Command, cancel some high-level visits and end limited cooperation with Washington on arms proliferation, said U.S. officials familiar with internal assessments of the arms sale.
However, the officials said they do not expect a complete break in military ties with Beijing, as occurred temporarily in 2008 and last year after deals were announced.
"China does not want a major disruption in relations," said one official, who noted that Beijing's key priority is avoiding a spat with the United States as communist leaders prepare for the transition from President Hu Jintao to Vice President Xi Jinping, set for the fall of 2012.
The Chinese military on its own, however, could undertake some reprisals, as it did in 2007 by blocking the aircraft carrier USS Kitty Hawk from making a scheduled Thanksgiving Day port call to Hong Kong.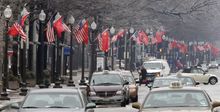 A Chinese general last year urged China to punish the United States by calling in some of China's U.S. Treasury debt holdings, currently estimated at $1.1 trillion.
The Obama administration is expected to announce as early as Wednesday the sale of a package of equipment and weapons worth $5.8 billion to upgrade Taiwan's fleet of 145 F-16 jets.
In agreeing to the upgrades, President Obama and White House officials rejected a proposal sought by some in the administration to offer Taiwan 66 new and more advanced F-16 C/D jets.
Administration officials briefed Congress on the deal Friday and are defending the decision not to sell new jets by asserting that the upgrades will give modernized Taiwanese F-16s a "near C/D" capability.
A congressional military specialist, however, said the expected arms package will be insufficient in bolstering Taiwan's air power.
The White House turned down the sale of C/D jets because of concerns that the sale would upset relations with China more than a sale to upgrade older jets, the officials said.
In addition to announcing the Taiwanese military upgrade, the Pentagon this week will release a congressionally mandated study on Taiwan's air power.
The study concludes that Taiwan's military should buy short-takeoff and vertical-landing jets such as the British-design AV-8B Harrier jump jet or the new F-35B vertical-takeoff version, according to the officials familiar with the aircraft.
That conclusion was based on anticipated Chinese missile strikes against Taiwanese airfields with cratering munitions that would thwart takeoffs by F-16s and other jets.
A defense official said that conclusion appears skewed to support the administration's decision not to sell new F-16s by highlighting airstrip vulnerability.