Years after the recession's peak, its effects caught up to middle-class residents initially insulated from its wrath. More people who still have jobs, even full time, are toiling without health insurance, and families whose savings carried them through months of hard times have been reluctantly applying for food stamps.
Year-over-year census figures released Thursday detail a population being pulled apart by opposing forces during the aftershocks of a recession. Rent is higher while homes are worth less. Household income decreased in 35 states last year and increased in none, yet many expenses have gone up.
In the Washington region, the median family income fell from $104,000 to $100,000 between 2009 and 2010, and per-capita income fell more than $1,000 to $40,500.
The unemployment rate may be lower than it once was, but employers have scaled back benefits offered to full-time workers or bumped them just below full-time status, preventing them from qualifying.
Those who never dreamed of receiving government assistance are now struggling to deal with a confusing and overwhelmed bureaucracy.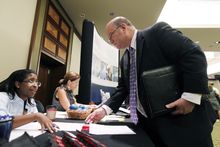 Meanwhile, rent and other living expenses have risen. Nearly 40 percent of Washington-area renters paid $1,500 or more a month, significantly more than a year prior. Fewer renters — about 10 percent — made payments of $750 or less.
"If I go to the grocery store, I see how much it goes up, and I'm not getting what I used to get. There are people coming out who wouldn't have applied before," said Linda Horn, benefit programs manager for the city of Alexandria.
"We got this big boom a few years ago, but we're seeing a steady increase every month in the number of people that are applying and being approved."
Nearly 15 percent of workers in Alexandria didn't have health insurance. Half of the unemployed went without insurance compared with 45 percent the year prior. Nearly 9 percent received food stamps, up from 6.6 percent in 2008 and 7.8 percent in 2009.
The percentage of workers with insurance coverage from employers decreased in 41 states. Virginia was one of six states in which the rate of even full-time, year-round workers who have health insurance declined significantly.
"Health insurance cost has increased faster than the rate of inflation, and what resulted is that a lot of small and medium-sized businesses are finding it difficult to maintain coverage," said state Sen. George L. Barker, a Northern Virginia Democrat whose small-business commission spent a year studying health insurance.
"What is also happening is insurance is available, but the portion the employee has to pay is so high they can't afford it."
Victims of layoffs who received a continuation of coverage, which often is paid for several months by the employer and can then be continued by the recipient, were covered through the height of the recession, but by last year, they were on their own.
"People do COBRA when they are initially unemployed and then they get to the point where they can't afford it. When someone loses a job, the ones who are most likely to want to have the coverage are the ones with significant illnesses, and consequently the cost of COBRA is very high," said Mr. Barker.
In the Washington area, 83.7 percent of workers had private insurance, down from 86 percent, and the uninsured rate among the unemployed rose to 42.7 percent.