"Contagion" ought to come with a warning: Bring a handkerchief. While you're at it, bring a bottle of disinfectant, sterilized gloves, a face mask — and, if theater management will let you, a sealed containment suit too.
You'll certainly want them by the time the movie is over.
Director Steven Soderbergh's latest outing is a globe-spanning horror-thriller designed to do for infectious disease outbreaks what "Jaws" did for sharks. The crucial difference is that avoiding sharks is relatively easy; all you have to do is stay out of the water.
"Contagion" is a subtler film. Like "Traffic," Mr. Soderbergh's Oscar-winning movie about the drug war, it's more of a prismatic procedural and less of an action-filled adventure.
But in its own small way, it is far more fearsome than any cinematic sea monster: How do you avoid an enemy that lurks invisibly on the surface of every coffee mug, credit card, countertop and subway handhold — not to mention the skin and breath of every person, friend or stranger, you encounter? The movie offers little in the way of memorable set-pieces, but its nagging, quietly terrifying questions leave a mark all the same. You'll never ride Metro the same way again.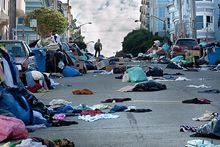 "Contagion" begins with a simple cough: Weary corporate executive Beth (Gwyneth Paltrow) is on the way home to the U.S. from Hong Kong, and she has caught a sniffle. But as her husband, Mitch (a pudgy, scraggly Matt Damon), quickly finds out, it's more than a seasonal bug.
Before long, Beth's symptoms begin popping up around the world, and an alphabet soup of global health authorities are called into action. Representatives from the Center for Disease Control and Prevention (Laurence Fishburne, Kate Winslet) race to trace the bug's origins and determine the scope of the problem. Dr. Ally Hextall, a mousey but persistent scientist played by Jennifer Ehle, begins looking for ways to synthesize a treatment.
But faced with a perfect biological killer — at first they can't even grow it in a lab because it destroys cells too fast — what can a handful of scientists and government officials really do? In many ways, "Contagion" is a contemporary fable about the limits of even the most capable professionals.
Nor is the bug their only obstacle. Political squabbling costs the responders precious time and energy. A Web-savvy anti-vaccination crank (Jude Law) peddles false information believed by millions. Red tape results in endless delay — even under an expedited approval process, any cure still faces months of review by the Food and Drug Administration.
Despite several A-list names, the sprawling cast is mostly functional. Each character serves as an illustration of a different facet of the world's disease response mechanisms. Mr. Soderbergh's direction is appropriately sterile — a series of still, dispassionate shots chosen with almost medical precision. But the movie's real strength is in its mass of expertly conveyed procedural detail — at times it's almost journalistic in its precision and its appetite for the nuts and bolts of fighting disease. Yet the momentum never stalls.
What Mr. Soderbergh and screenwriter Scott Z. Burns have done is lay out a gripping extended hypothetical — a chilling, frighteningly plausible "what if?" Let's hope "Contagion" is as close as we'll ever get to finding out.
★★★½
TITLE: "Contagion"
CREDITS: Directed by Steven Soderbergh; written by Scott Z. Burns
RATING: PG-13 for medical gore, brief violence