Heavy and relentless rain from remnants of Tropical Storm Lee on Thursday claimed at least three lives in the Washington area, closed the Capital Beltway and forced thousands of evacuations in Virginia and elsewhere along the East Coast as rivers and streams already swollen by Hurricane Irene spilled over their banks.
"Any flooding we currently have going on will be worsened by this," National Weather Service meteorologist Carrie Suffern said.
The storm accounted for at least three deaths in Maryland and Virginia, officials said.
Fairfax County fire officials said a child died after being swept away in the Piney Branch Creek in Vienna. Officials also said another person died in a similar incident, but it was not immediately known in what body of water.
Anne Arundel County police said a 49-year-old Pasadena, Md., man drowned in high water behind his home.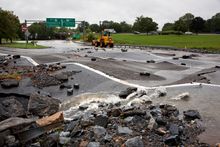 The weather service issued flash-flood warnings across the region Thursday night that included the District and Maryland's Carroll, Frederick, Howard and Montgomery counties.
A warning issued for Alexandria told residents "not to underestimate the power of floodwater." Fairfax County urged residents who live in sections of the Huntington area, near Cameron Run, to immediately evacuate their homes.
The rest of the region was essentially under a flash-flood watch until 2 a.m. Friday. Officials closed stretches of the Capital Beltway in Virginia, over Cameron Run and at the Mixing Bowl, because of high water.
Prince George's officials closed the town of Upper Marlboro after high water swamped roads and the county administration building was flooded with several feet of water from a nearby pond. The building and the county courthouse, also in Upper Marlboro, will be closed Friday.
The rain-soaked storm moved from the Gulf Coast into the area Monday and is expected to dump at least 10 inches of rain on the entire Mid-Atlantic region, according to the weather service. More rain is forecast throughout the region into next week.
Lee has been blamed for the deaths of at least nine people.
Potential flooding along the Susquehanna River has forced the evacuation of nearly 100,000 residents from Maryland to New York.
Most of the evacuations were ordered in and around Wilkes-Barre, Pa., where the levee system is just high enough to hold back the river if it crests at the predicted level. Even if the levees hold, 800 to 900 unprotected homes were in danger. If they fail, thousands of buildings could be lost.
Upriver in Binghamton, N.Y., a city of about 45,000, the Susquehanna coursed into the streets and climbed halfway up lampposts at a downtown plaza. Mayor Matt Ryan said it was the city's worst flooding since the flood walls were built in the 1930s and '40s.
Road closures effectively sealed off Binghamton to outside traffic as emergency responders scrambled to evacuate holdouts who didn't heed warnings to leave. Buses and then boats were used to evacuate residents, and National Guard helicopters were on standby.