Metro transit police: Not quite the region's finest
In unique jurisdiction, outcomes of enforcement sometimes fall short
Last of three parts
It was just after midnight, and Isaiah N. Nichols was prowling Rhode Island Avenue in Northeast Washington looking for sex. Twenty dollars, answered a woman who was "trying to make some money."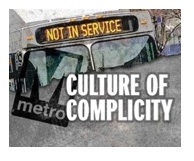 "That's what's up. I'll meet you over there," Mr. Nichols said.
The woman turned out to be an undercover police officer conducting a sting, and Mr. Nichols was arrested. He agreed to enroll in a "john school" class and was ordered to stay away from the Northeast strip.
But Mr. Nichols, too, was a police officer, and is still on the beat for the Metro Transit Police Department (MTPD).
While police in Maryland, Virginia and the District work to keep the region safe, also among the mix is the Metro transit system's lesser-known 600-member force, which uniquely has law enforcement authority across all three jurisdictions. But records suggest that the agency has conducted little enforcement of the transit system's everyday rules and that the department also counts among its ranks people who have been arrested for violent and predatory crimes.
Officer Sivi Jones, for example, has a long history of arrests in connection with violent crimes, including felony threatening to injure a person, domestic assault and simple assault, according to court records and colleagues. She was largely able to escape convictions, including a "no papered" judgment, where prosecutors agreed not to pursue charges if the defendant stayed out of trouble.
But it was not out of respect for the justice system she is tasked with upholding: Court records note that the Southeast resident also failed to appear for a court date on assault charges filed against her.
Metro's officers carry guns and are tasked with enforcing all laws on Metro property, including its 86 rail stations and thousands of bus stops. It also enforces quality-of-life rules of the transit agency, such as a ban on eating and drinking.
"These guys are not the cream of the cop in law enforcement. They are less educated and don't know how to assess a situation in a logical manner," said James Bitner, a defense lawyer and former prosecutor who has represented clients who he said have been beaten and wrongly charged by Metro police. "You're not getting a straight-A student. You're getting a C and D student."
In some cases, that has led to corruption.
Light penalties
Officer John V. Haile pleaded guilty to theft from a federally funded agency this month after stealing hundreds of thousands of dollars from Metro. The transit police officer was supposed to ensure compliance with the law as another Metro employee recovered revenue from fare machines, but instead, Haile, with the other employee, hid $500 bags of coins in bushes and bought lottery tickets with the money. Metro said it did not know exactly how much money went missing.
Mr. Nichols and Ms. Jones are just two of a number of MTPD officers who court records suggest have been arrested in connection with drug, theft and violent crimes, a comparison by The Washington Times of the MTPD roster and D.C. and Maryland criminal filings found. Metro would not confirm or deny any of the cases. Some, including Ms. Jones, talked openly about their rap sheets on the job, according to colleagues.
In most cases, the officers avoided formal convictions by securing entry into programs by which convictions are averted by performing community service, seeking treatment or avoiding more trouble. In other cases, they took steps to seal their records after the fact.
View Entire Story
© Copyright 2014 The Washington Times, LLC. Click here for reprint permission.
About the Author
Luke Rosiak is a projects reporter on The Washington Times' investigative team. He formerly covered lobbying and campaign finance for two watchdog groups as well as transportation for The Washington Post. Luke can be reached at lrosiak@washingtontimes.com.
Latest Stories
Latest Blog Entries