Mark Twain famously said, "Everybody talks about the weather, but nobody does anything about it."
Now the Navy has found a way.
At its newest facility in Washington, naval scientists create sandstorms, torrential downpours and strong waves to produce the most extreme environments to test robots — some programmed with human characteristics.
The $17.7 million Laboratory for Autonomous Systems Research (LASR), which opened March 16, is the first addition to the Naval Research Laboratory's campus in nearly a decade.
The facility includes a steamy Southeast Asian-like rain forest with damp soil like quicksand, fruit trees, tropical plants and even spider mites. It has a swimming pool with a 16-channel wave generator and an adjustable slope used to simulate coastal areas like those in the Persian Gulf or the Pacific.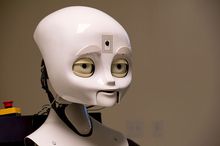 "Trust me, you don't want to walk out there because in some spots, you'll start sinking right into the soil," LASR director Alan Schultz told reporters on a recent visit to the lab.
"This is not like an arboretum that's meant to look pretty for people to go explore plant life. It is meant to be authentic."
Scientists can create daytime or nighttime conditions, adjust wind speeds and barometric pressure. They can tweak temperatures from a negative 50 degrees up to 375 degrees Fahrenheit and humidity from 10 percent up to 95 percent. They also can simulate rainfall up to 6 inches per hour, which would replicate the heaviest rainfall anywhere on the planet.
They are testing robots that can swim underwater along a coastline or perch upside down on mountainsides to create environments and situations that might be encountered if the robots are deployed in Asia or the Middle East.
According to Rear Adm. Matthew L. Klunder, chief of naval research, LASR's work fits in with the new national military strategy, which calls for a shift toward the Asia-Pacific and Middle East regions and the maintenance of the ability to protect U.S. interests in those regions.
"We knew that as we pivoted toward the Western Pacific and those kinds of … challenges we would have, it was a priority," he said.
LASR robots are also learning how to interact with humans and think on their own.
One named Lucas stands around 6 feet tall on a Segway-vehicle platform. He has extendable arms and fingers, a huge porcelain-white head and a childlike face with movable eyeballs, eyelids, eyebrows and a mouth.
Lucas can even understand human confusion.
To demonstrate his ability, one scientist told Lucas about two fires on an imaginary ship. One was extinguished, but the other was still ablaze.