KAMPALA, Uganda — President Yoweri Museveni has banned the social protest group whose "Walk to Work" campaign last year focused outrage over skyrocketing food and fuel prices, and embarrassed his longtime government.
The Museveni administration on Wednesday declared the group known as Activists for Change "an unlawful society," accusing the protesters of stoking chaos that led to loss of life and property.
The government, which met the peaceful walking protests with lethal force, banned the group from any further activity and banned the media from reporting on the group's actions.
Activists for Change held a modest rally Thursday at the Kololo Airstrip in Kampala, where the pressure group aired a documentary highlighting police brutality. Police had authorized the rally before Wednesday's announcement.
The ban comes after a police officer was killed by a blunt object by an unknown assailant on March 21, when police tried to block Kampala Mayor Erias Lukwago and opposition members from inspecting a drainage ditch. In response, Mr. Museveni vowed to crush "unlawful" citizens.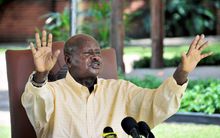 Opposition leaders blame Mr. Museveni's regime for the killing, and say the administration is using it to consolidate power.
Activists for Change rose to prominence one year ago when it called on ordinary Ugandans in the capital, Kampala, to walk from their homes to work in protest.
The ruling regime's deadly crackdown ignited further protests, and the country appeared headed for an Arab Spring-like revolt. But the momentum quickly faded amid a lack of clear-cut goals and discipline among the protesters.
Unrelenting inflation, high unemployment, poor delivery of public services and endemic corruption have threatened to rekindle public unrest in recent months.
The independent, public-opinion survey project Afrobarometer recently released a national poll showing Mr. Museveni's approval rating has plummeted to 26 percent, a year after he won his third re-election bid in a landslide. He has ruled Uganda since 1986.
Richard Ssewakiryanga, executive director of Uganda National NGO Forum, predicts any crackdown on Activists for Change will be futile. "If you can't speak, other forms of resistance will arise," he said.
Activists for Change leaders have vowed to carry on. "The ban has reinvigorated us," said coordinator Jeff Wadulo.
The group plans to nationalize what has been primarily a Kampala-based movement, establish a nonviolent code of conduct and train protesters in effective methods, he said.
Activists for Change has scheduled a rally in Kampala's Constitution Square for April 14. The government has accuses the protesters of trying to turn the two-block park into Uganda's Tahrir Square. Police have monopolized nearly all of the city's parks for more than a year.
The group is the country's only major vehicle for social protest, but it recently has struggled to attract supporters.