Americans overwhelmingly say the Nationals should shut pitcher Stephen Strasburg down for the rest of the season rather than let him continue to pitch and help his team get into the playoffs, according to the latest The Washington Times/JZ Analytics Poll.
By 47 percent to 11 percent, those surveyed nationwide agreed that there was no reason to risk Strasburg's arm in a playoff chase. Another 42 percent said they weren't sure.
The Nationals plan to shut Strasburg down in September, regardless of where the team is in the pennant race. He will miss two or three regular-season starts and will not be active in the postseason, should the Nationals — the best team in the major leagues with a 77-50 after Sunday — reach that point.
Strasburg, who is 15-5 with a 2.85 ERA, underwent Tommy John surgery in September 2010, ending his electrifying rookie season. As part of his continued rehabilitation and progression to an experienced major league pitcher, the team had planned to limit the 24-year-old's workload since before this season began.
As the season progressed and the Nationals established themselves as the best team in the National League East and surefire playoff contenders, the shutdown plan became one of the most debated issues in sports.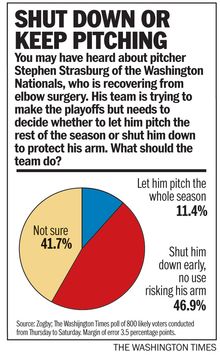 The Nationals, however, have not wavered. The team followed the same course of action with right-hander Jordan Zimmermann in 2011 as he was coming back from having the procedure in August 2009. Zimmermann is among the best pitchers in the majors this season with a 2.63 ERA after Sunday's 4-1 loss at Philadelphia.
According to the political breakdown, Democrats were substantially more likely to say the Nationals should shut Strasburg down, while Republicans and independents were less certain of that decision.
The question was included in The Times/JZ Analytics poll on political matters, which was conducted Thursday through Saturday and included 800 likely voters. The survey is weighted for demographic purposes and has a margin of error of plus or minus 3.5 percentage points.