HOUSTON — As the ball barreled toward one of the many left center field crevices at Minute Maid Park, it carried with it the weight of an entire game. Four hours of baseball. Three hundred and 63 pitches. Twelve innings. The best record in the major leagues, a 3-2 victory, a 2-0 start to the Washington Nationals' longest road trip of the second half.
It was all rocketing toward Roger Bernadina as Tuesday turned to Wednesday on the East Coast and the Nationals' center fielder sprinted to his right. On the mound, Tyler Clippard held his breath. At the plate, Brett Wallace looked out at his two teammates on the bases as he hopefully began running toward first base. Shortstop Danny Espinosa's mind went blank except for one thought: "I hope he catches that ball."
For 6 seconds it hung in the air. Bernadina kept running.
Craig Stammen, one of two relievers left in a bullpen that has thrown 11 ⅔ innings in the last two days, stood up thinking if there wasn't a fence between them he could catch it. "You got room, you got room," he shouted. Bernadina leapt.
For a moment, there was silence.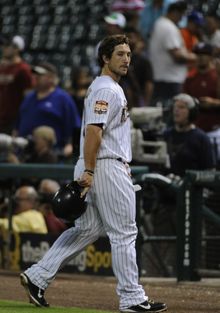 "We're 4 inches from winning the game," said Astros manager Brad Mills, whose team lost its 11th extra-innings game and second straight to the Nationals.
And then Clippard screamed and Stammen jumped up and down triumphantly behind a sprawled out Bernadina.
"He disappeared," said Nationals manager Davey Johnson. "And he came out holding the glove high. I said, 'Man, this is great. Let's get out of here.' It was sensational."
"He caught it and I was like, 'OK, is he dead or alive?'" Stammen said. "And he was alive."
Players streamed out of the Nationals' dugout smacking their hands together in an exaggerated clap.
The man they call "The "Shark" had just saved win No. 67 to give them the best record in baseball. And in a season filled with victories for a tortured fanbase to hold onto, they snuck by the worst team in baseball for the second straight night.
"That was an unbelievable catch," Espinosa said, his bat the only reason the Nationals were in position to win at all after his two-run homer in the second tied it and his RBI single up the middle in the 12th broke that excruciatingly long stalemate.
"It saved the game. If he doesn't catch it, we lose. To go the distance that he did and leap, that's a tricky little corner right there against a flat wall. An unbelievable catch."
Bernadina struggled to keep the smile from his face as he rehashed his path. "I knew I had a shot all the way," he said, as teammates shouted praise at him in the clubhouse. "At that moment, I felt like jumping and it turned out well."
There were few it turned out better for than Clippard, who let out a firm sigh of relief after he'd finished screaming with his hands raised above his head. But starter Ross Detwiler, one of the first out of the dugout to congratulate Bernadina, was a close second.