ANNAPOLIS — Noah Copeland sputtered through his first two starts, bottled up as Navy's offense managed a combined 17 points in losses to Notre Dame and Penn State.
Yes, the opponents were strong — stronger, really, than the Midshipmen could have known at the time. It still was time for offensive coordinator Ivin Jasper to have a talk with the sophomore.
"Being a fullback in this offense, you have to be a man," Jasper said. "Now, I'm not saying he's not tough enough. It's just that you have to understand you're going to take a physical beating. You're going to be tackled almost every single play. Some of the defense's best players have a free run at you. I wanted him to understand from that standpoint it takes a tough sucker to play that position."
It's taken time, but Copeland is finally starting to fit the part of the rugged fullbacks that have helped define Navy's success over the past decade.
Copeland enters the Mids' date with Arizona State in the Dec. 29 Fight Hunger Bowl in San Francisco with 694 rushing yards on the season, a slightly modest figure for a position that has produced an 800-yard back for five consecutive seasons.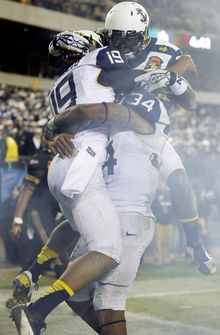 What matters, though, is how Copeland finished the season. Coach Ken Niumatalolo called it a "steady incline," one that included his second-best yardage total (110) in Navy's defeat of Texas State in its home finale. Then he added 99 yards on 22 carries as the Mids (8-4) edged Army.
He's also scored three of his five touchdowns over the past two games.
"I've been trying to get better every single week," Copeland said. "At the end of the season, I tried to pick it up. It's not the season I wanted to have, but it's an all-right season. I'm not satisfied, though."
One thing's for sure: He knows what to expect.
That wasn't entirely the case entering the fall, when Copeland inherited the starting job from the graduated Alexander Teich. Much was made of Copeland's relatively small size for a fullback (5-foot-10 and 205 pounds), something he insisted then and reiterated last week is not a significant factor.
While there's no reason to doubt him, there was an adjustment to the weekly punishment a fullback receives in the triple-option offense.
"After Notre Dame, I was already banged up, so I was like 'How am I going to make it through the season?'" Copeland said. "But I ended up making it through, and now we have a bowl game."
Along the way, he remained in touch with Teich. The 2011 offensive captain repeated a mantra often heard around the Mids' program: "Stay to the grind."
Meanwhile, there was something Copeland couldn't entirely account for, whether he was splitting time early on with Prentice Christian or receiving an occasional spell from Chris Swain over the final weeks of the season.
More so than usual, defenses attempted to shut down the fullback dive, encouraging Navy to rely more heavily on its slotbacks to create offense.