CLEVELAND — Rob Jackson is a big man. So big, in fact, you wouldn't think a quarterback could miss the 6-foot-4, 266-pound outside linebacker camped in the middle of the field with all the subtlety of an elephant.
Somehow Brandon Weeden, the Cleveland Browns' 29-year-old rookie, did.
"I guess," Jackson said with a wide smile," he couldn't find me."
One play into Sunday afternoon's second half at Cleveland Browns Stadium, Jackson snatched Weeden's errant pass from the unseasonably warm air. And the Washington Redskins' defense, abused by opponents and maligned by fans this season, had another momentum-sapping play en route to a 38-21 victory.
Yes, that Redskins defense. The same one ranked 31st in the NFL against the pass. The same one ravaged by season-ending injuries to three starters. The same one that surrendered 30 or more points four times. The same one with a battered secondary seemingly held together by duct tape and chewing gum.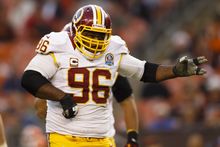 Facing an erratic quarterback, youthful only in professional experience, and a team spiraling to its 10th losing season in the past 11 years proved the ideal solution.
The Redskins confused and harassed the mistake-prone Weeden all afternoon. Not the least of which was Jackson's third-quarter interception. Thrust into the starting lineup after Brian Orakpo's season-ending injury in September, Jackson has become a fixture in the defense's resurgence in recent weeks.
For all of Jackson's size, the fourth-year player is quick enough to cause havoc in the backfield (he sacked Weeden and forced a fumble) or look natural dropping back into coverage (his three interceptions this season are more than starting cornerback Josh Wilson). Jackson has sacks in each of his past three games, as he grows more comfortable with his expanded role and understanding what opposing offenses want to do.
"He really makes everyone around him, especially me, want to raise my game to play at his level," fellow outside linebacker Ryan Kerrigan said. "He's on fire right now."
Jackson gushed about Kerrigan, too: "He set the standard. I can't be average. I can't be mediocre. I have to step up my game to his intensity. He makes a big play, so I make a big play."
Kerrigan matched Jackson's efforts, spending extended time inside the Browns' backfield, chasing Weeden, swatting passes and generally causing trouble. But Jackson's interception blew any energy out of the three-quarters full stadium that the steady wind off Lake Erie hadn't already sent away.
Weeden, with a strong right arm that caused the Browns to use a first-round pick on him in April's draft, couldn't find open receivers deep (with the exception of a botched coverage that resulted in a late 69-yard touchdown grab). So, he settled for short passes like the one Jackson grabbed as he stood in the middle of the Redskins' zone defense.
Up to that point, the Browns held a 14-10 lead. Three plays after the interception, Alfred Morris plunged into the end zone and the Browns never led again.
Play after play, the Redskins attacked. Weeden had nowhere to go, and gifted rookie running back Trent Richardson was limited to 28 yards on 11 carries. Cornerback DeAngelo Hall blitzed so often he joked he begged permission to drop back in coverage to catch his breath. Ageless linebacker London Fletcher intercepted Weeden on another badly-thrown ball. Even lineman Barry Cofield contributed his first sack in six weeks — followed by his Taser celebration dance.
With starting quarterback Robert Griffin III watching from the sideline because of his injured right knee and Kirk Cousins making the first start of his young career, the defenders felt extra responsibility to keep the game close.