The executive vice president of the National Rifle Association on Friday called for Congress to pass legislation and funding that would placed armed officers in every school in the country, indicating the group will go its own route in addressing the national furor over gun violence in schools in the wake of last week's shooting rampage at a Connecticut elementary school.
In a defiant, determined tone, Wayne LaPierre said that it is the country's duty to protect its children, adding that for all the "noise and anger" directed at the group in the last week, the question still remains: "How do we protect our children right now — starting today — in a way we know works?"
The NRA executive said the nation's gun laws were not to blame for the Newtown, Conn., shooting, but instead the focus should be on the failure to deal adequately with the mentally ill, the decision not to deploy armed protection for the nation's schools, a national media and an entertainment industry that glorifies violence and mass killers, and the failure to prosecute violent criminals.
Mr. LaPierre blasted "gun-free zones" for schools, saying they're simply open advertisements to "every insane killer in America" that schools "are the safest place to inflict maximum mayhem with minimum risk."
"The only thing that stops a bad guy with a gun is a good guy with a gun. … It's not just our duty to protect [our children]; it's our right to protect them."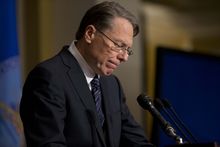 He questioned what might have happened if shooter Adam Lanza had been confronted by an armed guard at Sandy Hook Elementary School in Newtown, Conn., last Friday.
"Would you at least admit it's possible that 26 innocent lives might have been spared that day?" he said. "Can't we afford a police officer in every school?"
Lanza shot and killed 20 children and six adults at the school before taking his own life. He killed his mother at home before going to the school.
"We must act now for the sake of every child in America," Mr. LaPierre said.
He also announced that the politically powerful gun lobby has recruited former Rep. Asa Hutchinson of Arkansas to head a national training and emergency response program sponsored by the group to develop a model security plan schools can adopt if they so choose.
Mr. LaPierre also said that gore-filled video games bore much of the blame for a culture of violence that produced incidents such as Newtown, noting such popular titles produced by the video game industry as "Bulletstorm," "Mortal Kombat" and "Kindergarten Killers."
"In a race to the bottom, many conglomerates compete with one another to shock, violate and offend every standard of civilized society, by bringing an even more toxic mix of reckless behavior and criminal cruelty right into our homes," Mr. LaPierre said.
He said the national press also deserved blame for misleading coverage of the shooting and misguided focus on gun laws.
Calling the media "silent enablers" of such mass shootings, Mr. LaPierre said, "Rather than face their own moral failures, the media demonize lawful gun owners."
Gun-control advocates were quick to condemn the NRA's response.