Alfred Morris was the last player to leave the Washington Redskins' locker room after their win over Philadelphia on Sunday. How appropriate, considering quarterback Donovan McNabb was the last one out after Washington beat the Eagles in 2010.
The Redskins drafted Morris last April with the sixth-round pick they acquired by trading McNabb. As Sunday afternoon turned into evening, Morris granted interview after interview. The media crush wasn't quite as intense as it was when McNabb, the castoff quarterback, returned to Philadelphia during that forgettable era of Redskins football. Morris, however, has earned his status as a main attraction.
He is 104 yards from breaking the Redskins' single-season rushing record after gaining 91 yards on 22 carries against Philadelphia. His pursuit of Clinton Portis' record is a subplot of Washington's NFC East championship game against Dallas on Sunday night, one Morris insists he's not preoccupied by.
"It's really not important at all," Morris said, just before a team employee lobbied him to continue buttoning his white dress shirt while he spoke to reporters so he wouldn't miss the bus to the airport.
"I don't really think about that type of stuff. Yeah, I find myself in a good position to break it, but that never was my goal to break records. It was always to go out there, leave it all on the field, do everything I can to help my team win, and that's just what I've been doing."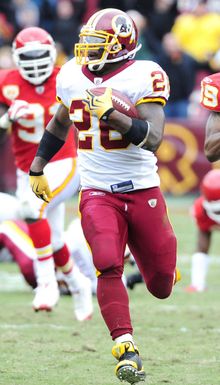 He has done that in quarterback Robert Griffin III's shadow for most of the season. But during the last two games, with Griffin sidelined by a sprained knee against Cleveland and limited by it against Philadelphia, Morris has thrived despite commanding more of opponents' attention.
Without being aided by Griffin's explosive running ability and the full effect that has in causing hesitation and confusion among defenses, Morris has rushed for 178 yards and three touchdowns on 49 carries.
"Teams have been loading the box on us since the bye week, since we've been on a roll, and we still find a way to get those tough yards," Griffin said. "It's a testament to the offensive line, getting all their blocks and getting guys on the ground, and it's a testament to Alfred for just running so hard like he has all year."
For all of Griffin's flash, Morris' physical, punishing rushing style is at the heart of Washington's offensive success this season. It's why both of their names might be called Wednesday night when Pro Bowl rosters are announced.
Portis appreciates Morris' physicality as much as anyone. He rushed for 1,516 yards in 2005 on a whopping 352 carries.
Coach Joe Gibbs continually fed him the ball, and he grinded his way to the franchise's single-season rushing record at a pace of 4.3 yards per attempt. Morris is averaging 4.7 yards on 302 carries.
"I just see him as a tough runner," Portis recently said on 106.7 The Fan radio. "I never really compared him to me. Just watching him, being a fan of his and the way he carries himself, being a fan of his and seeing how hard he runs, and the determination.
"The first guy never tackles him, and you never really see him fall backwards. He finishes with his shoulders down, head upfield, and kind of welcomes the contact, and I think it takes a tough runner to do that."
Morris did that against the Eagles on Sunday. He gained yards after contact on 18 of his 22 carries; 56 yards after contact, in all.
Such toughness is one reason why Morris' teammates are striving to help him break the record.