Just 34 seconds into his second start of the season, Otto Porter lay on the Verizon Center floor, blood spurting out of his mouth courtesy of an elbow from Villanova's Maurice Sutton.
"I don't really remember," the freshman forward said. "I was going after the ball and just got hit out of nowhere."
It wouldn't be the last time Porter — or anyone else — hit the deck in what would prove to be another physical battle between these two heated rivals.
Dazed and confused, Porter staggered to the bench having bit his tongue, and he would spend the next five minutes there getting looked at by Georgetown trainers. Villanova may have wanted to make some sort of statement, but all they did was get the Hoyas angry.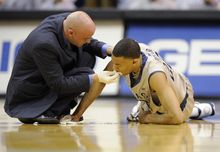 "When the game starts off like that … we're a family, you have each other's back," guard Jason Clark said. "We're not going to let that happen to our teammate."
Short-handed Villanova tried its best to be the bully, but Georgetown (21-6, 11-5 Big East) has the bodies to bang with anybody. At the end of a hard-fought 67-46 victory, the Hoyas were battered and bruised but in possession of a critical win in their penultimate home contest that gave them at least a single bye heading into the conference tournament.
"They are a rough team," Porter said. "We knew it was going to be a rough game."
Several times during the course of the game, Villanova's players went out of their way to initiate contact or apply that extra nudge after a foul.
"They've been a physical team since I've been here," center Henry Sims said. "That's been their trademark. Coach stressed that we can't come in expecting them not to be physical, not to be themselves."
There were some frustrated looks by the Hoyas and a few complaints to the officials, but for the most part, Georgetown's players kept their cool and soldiered onward.
"They did a very good job of protecting each other, having each other's back and supporting each other," coach John Thompson III said.
The Hoyas rarely do well with prosperity, preferring to slowly choke the life out of their opponents instead of blowing them out, so it wasn't a surprise to see their 25-8 advantage whittled away to four points in the waning moments of the first half.
But Porter, having recovered from his early wake-up call, helped lift the Hoyas out of their doldrums by hitting a 3-pointer that got the benefit of a shooter's touch to give the team a 30-23 halftime advantage and essentially take all the starch out of a Villanova (11-17, 4-12) comeback.
"That was a big play," Wildcats coach Jay Wright said. "That was the end of the shot clock, we had a good defensive possession, they didn't have anywhere to go, and we gave him too much space there. That was a big shot."