Maryland realtors to protest O'Malley's cap on deductions
ANNAPOLIS — Maryland real estate agents are protesting Gov. Martin O'Malley's plan to cap tax deductions on mortgage interest payments, saying such a move would shortchange homeowners and discourage potential buyers.
The Maryland Association of Realtors will rally Wednesday in Annapolis against the plan, which adds the group to a growing collective of Marylanders opposed to the governor's lists of proposed tax increases.
Mr. O'Malley, a Democrat, has proposed tax increases on income, cigars, septic system bills and gas as well as a new tax on Internet purchases — alarming Republicans, many Democrats and business leaders from the trucking to retail petroleum industries.
The proposed gas-tax increase came just months after the O'Malley administration increased tolls on several highways and bridges.
Mr. O'Malley now seeks to cut the value of itemized deductions by 10 percent for residents making more than $100,000 annually and by 20 percent for those making $200,000 or more.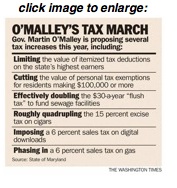 The move would affect the top 20 percent of earners and would have its biggest impact on mortgage interest deductions, which account for about half of all itemized deductions claimed in the state.
"Tax benefits are part of the value of a home, and this will put a real chill on the market, which is what we don't need," said Mary Antoun, CEO of the Maryland Association of Realtors. "We're not going to recover as a state economically until we get our housing market back in shape."
Mr. O'Malley's proposed $35.8 billion budget includes some modest cuts as well as capital spending increases. If approved by the General Assembly, the fiscal 2013 budget would be roughly $1.6 billion more than last year's.
Mr. O'Malley has argued that the increases are needed to fund education and infrastructure improvements. He also has pointed out that the budget includes $610 million in cuts — done largely by shifting $239 million in teacher pension costs onto counties and reducing anticipated spending increases.
Leaders in the Democrat-controlled General Assembly have said they could amend the budget to include more cuts and fewer tax increases. And some are so concerned about the extent of increases that they are preparing a so-called "doomsday budget."
State lawmakers have been particularly critical of the proposed cap on itemized deductions, which would require a couple making $150,000 a year to pay an extra $191 in taxes, according to the governor's office.
A couple making $180,000 would pay $207 more, while a couple making $275,000 would pay an additional $541.
House Minority Leader Anthony J. O'Donnell thinks that floating the proposal has already caused a "dampening effect" on the housing industry and potential homebuyers.
"If they don't know the home mortgage interest deduction is going to be there, then that affects their purchasing decision," said Mr. O'Donnell, Calvert Republican. "That hurts job creation in this state, and I'm getting about damn tired of this governor hurting job creation in this state."
The governor's office defended the deduction cap as a necessary approach that already has been employed by many other states.