WHAT RICK LEARNED
"The gift of being underestimated is a great gift."
(Republican hopeful Rick Santorum, to 600 fans at a campaign appearance in McKinney, Texas, on Wednesday.)
RUBIO's RUBRIC
"I think the vast majority of Americans, whether on the left or the right, will tell you that the government of the United States should not have the power to be able to go in and tell a church-based organization that they must pay for something that that faith teaches their members not to do," says Sen. Marco Rubio, referring to President Obama's fixation on a contraception mandate.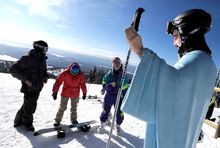 But the Florida Republican — who last week introduced the Religious Freedom Restoration Act to repeal that mandate — also has advice for Mr. Obama.
"The solution is for the president to come back and say 'you know what, maybe we overreached. Maybe we went too far. We've heard from a lot of people, we are going to reconsider this decision.' There is nothing wrong with that. We have plenty of other issues to argue with this president about."
GODLESS
There's more faith-related discord percolating out there. Rep. J. Randy Forbes,
Virginia Republican and co-chairman of the Congressional Prayer Caucus, has fired off a letter to Air Force Secretary Michael Donley and Air Force Chief of Staff Gen. Norton Schwartz after the Air Force Rapid Capabilities Office (RCO) altered its logo to remove a Latin reference to "God" following complaints to the office by the Military Association of Atheists and Freethinkers.
"The action taken by the RCO suggests that all references to God, regardless of their context, must be removed from the military. As we are confident that your legal advisors would not suggest that censorship is required for compliance with the First Amendment, we ask that you reverse this perplexing decision," Mr. Forbes writes in the letter, which was co-signed by 25 members of Congress.
Meanwhile, inquiring minds want to know: If such sanitizing trends persist in the Air Force, is "High Flight" at risk?
The famous sonnet written by Pilot Officer John Gillespie Magee Jr., an American serving with the Royal Canadian Air Force during the Battle of Britain in 1941, ends with the lines "with silent lifting mind I have trod the high untrespassed sanctity of space, put out my hand, and touched the face of God."
Even the Air Force itself says the work "has become an aviator's anthem, and an epitaph," according to historical records.
MOUNTAIN CLIMBING