When future talking-monkey archaeologists sift through the detritus of postapocalyptic America, they would do well to ignore the usual cultural Rosetta Stones — the Statue of Liberty, Mount Rushmore, seven seasons and counting of "The Real Housewives of Orange County."
They should focus instead on a single artifact: the AeroShot caffeine inhaler.
Sleek and plastic, the size of a lip balm tube, the AeroShot is the brainchild of David Edwards, a Harvard professor of biomedical engineering who also invented breathable chocolate. (Don't ask.) The AeroShot contains a puff of lime-flavored caffeine powder; one squeeze, and it dispenses about 40 mg of the drug in your mouth, like an asthma inhaler.
A startup product recently released in the Boston area, the AeroShot already has drawn the ire of Sen. Charles E. Schumer. In December, the New York Democrat expressed concern that the inhaler would be used as a "party enhancer" and asked the Food and Drug Administration to review the safety and legality of selling it to children.
In doing so, Mr. Schumer overlooked the obvious: When it comes to the nation's predilection for energy-boosting enhancement — at parties, at the office or anywhere in between, for young and old alike — the horse has long since left the barn, if only to lap up a double espresso at the neighboring Starbucks. (Speaking of which, the coffee bar chain briefly pilot-tested its own caffeine inhaler in 2006, one with mint flavor instead of lime.)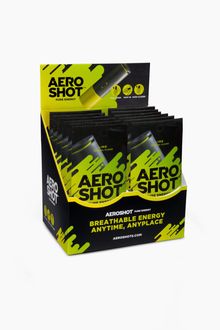 "At the time we came up with the AeroShot, we were looking at breathable coffee, breathable vitamins, the most high-value ingredient the product could have," Mr. Edwards said. "We came up with energy. There is a big demand for energy in the United States."
One nation under a buzz
America, the land of the free. America, home of the amped. From the 24-ounce Cafe Americano to the 64-ounce Mountain Dew Double Gulp, from ubiquitous coffee shops to the widespread use of the prescription drug Ritalin (read: legal speed) as a campus study aid, we are one nation under a buzz, indivisible from our next fix, with 5-Hour Energy shots and caffeine-spiked chewing gum for all.
To understand the depths of our perked-up desire, consider:
• The average American ingests as much as 300 mg of caffeine a day, equal to three No-Doz pills;
• From June 2010 to June 2011, amid ongoing economic malaise, energy drink sales rose a whopping 31.6 percent.
• At an Army lab in Natick, Mass., military scientists reportedly have taken time out from developing Global Positioning System-guided helicopters to test and develop … caffeinated meat.
Or, just visit a Starbucks.
Once upon a time — say, the 1950s — there was the standard, 5-ounce cup o' Joe, containing about 70 mg to 100 mg of caffeine. Quaint. In the here and now, the standard16-ounce cup of regular Starbucks coffee contains 330 mg of the same substance.
"There are two dark, black liquids that run this country," said Robert Thompson, director of the Bleier Center for Television and Popular Culture at Syracuse University. "Oil and coffee. Walk down the street in any major city at lunch hour. You just see coffee and cell phones."