Delivering a broad defense of tax increases on the wealthy to help pay America's bills and finance new investments, President Obama used his final pre-election State of the Union address Tuesday to urge Congress to act, warning that he was prepared to leave them behind if they fail.
Taking a brief victory lap for some of the accomplishments of his first three years, including rescuing the auto industry, ending the U.S. mission in Iraq and the killing of Osama bin Laden, Mr. Obama focused largely on the broad, populist themes he has struck repeatedly in recent months — that all Americans deserve a fair shot at economic success if they work hard and play by the rules.
In his nearly 65-minute address, President Obama mixed a little conciliation with a fair amount of confrontation, attempting to set the tone and the agenda for a year that the White House is calling "a make-or-break moment for the middle class and those trying to reach it."
Facing a Republican-held House and a closely divided Senate, Mr. Obama said Congress cannot let 2012 go by without trying to tackle big issues such as infrastructure spending, the renewal of the payroll-tax cut, massive federal deficits and the need for more spending on education.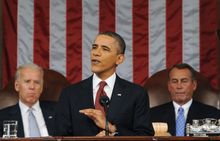 Asserting that the state of the union is "getting stronger," Mr. Obama declared, "As long as I'm president, I will work with anyone in this chamber to build on this momentum. But I intend to fight obstruction with action, and I will oppose any effort to return to the very same policies that brought on this economic crisis in the first place."
What's at stake, the president said, "are not Democratic values or Republican values, but American values. We have to reclaim them."
Figuring out how to keep that promise alive, the president said, is the "defining issue of our times."
Even before the address was delivered, Republicans were attacking many of Mr. Obama's arguments.
While campaigning in Florida, GOP presidential hopeful Mitt Romney urged voters to make the State of the Union speech Mr. Obama's last and blamed the president for pushing policies that have raised the nation's unemployment rate, worsened the housing crisis and pushed the nation deeper into a sea of red ink.
The Republican National Committee launched a TV ad in three battleground states — Virginia, North Carolina and Michigan — as well as the District of Columbia accusing the president of a failed economic record.
"State of Our Union 2012: Not Better Off" is a 30-second ad that began airing Tuesday. The spot calls attention to 13 million Americans out of work and 49 million living below the poverty line.
It ends with Mr. Obama's own words about struggling Americans, from an interview in October: "I don't think they're better off than they were four years ago."
Mr. Obama, drawing on a historic speech that President Roosevelt delivered in 1910 that focused on economic inequality, mapped out a vision for "an economy built to last" based on four pillars: American manufacturing, American energy, skills for American workers and a renewal of American values.
While the speech focused on the lofty goals of rewarding hard work and providing more economic opportunity for all Americans, the details of the president's plans for leveling the playing field — such as raising taxes on the wealthiest Americans, imposing stricter regulations on Wall Street and creating government mandates for health care — have deeply divided the nation during his time in office.