Former intelligence officials use "reprehensible" and "egregious" to describe the alleged acts of a former CIA officer charged by the government with betraying his own when he revealed the identities of two overseas operatives to the media.
These former officials reject the image of John Kiriakou as a high-minded "whistleblower" who sought to expose official wrongdoing or a botched intelligence operation.
Mr. Kiriakou took his leaking to a more dangerous level, they say, by explicitly telling one reporter the name of a current CIA covert officer and giving the name to three journalists of another CIA hand — the analyst who interrogated Sept. 11 mastermind Khalid Shaikh Mohammed and other top al Qaeda figures, according to Justice Department documents.
It is rare for the U.S. government to catch a former or current CIA employee who has exposed a fellow undercover officer. The last time a CIA official was charged with such a crime was in 1985.
Alarming to the intelligence community in the Kiriakou case is that "Journalist A," as the Justice documents identify the reporter, provided the covert officer's identity to an investigator for the lawyers defending some of the most senior al Qaeda terrorist suspects detained at U.S. Naval Base Guantanamo Bay, Cuba.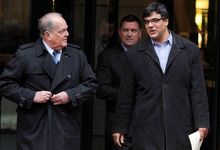 All the while, the documents say, Mr. Kiriakou played a duplicitous game by leaking the names to the New York Times and other media, then denouncing the practice to one of the men he exposed, according his emails seized by the FBI.
"I consider this egregious and clearly so does the agency," said Bart Bechtel, a former CIA clandestine officer. "In general, cover or identities, true or alias, falls under sources and methods. It is incumbent on all officers, current or former, to protect these."
Ask about the outed covert officer's ability to continue his career, Mr. Bechtel said: "The exposed officer can still do many things, such as being an instructor-mentor to junior officers. The greater concern may be the effect on his family and their safety."
Bruce Klingner, who worked as an analyst at the Defense Intelligence Agency and the CIA, called Mr. Kiriakou's alleged actions "a betrayal of the trust the U.S. government placed in him."
"I think it's reprehensible," said Mr. Klingner, now a national security analyst at the Heritage Foundation think tank. "Any of us who worked in the CIA, we took any number of oaths to protect classified information. … Some whistleblowers will try to wrap themselves in various 'just causes' and say they're doing it for a [greater] good. They can claim that, but it's still a violation of the law."
Covert no more
As for the covert officer's career, Mr. Klingner said: "Certainly the officer would be constricted in what kind of assignments he could have overseas, particularly if he's working counterterrorism. It's not only whether his effectiveness or cover is reduced, but it is also a much great danger to his life."
Mr. Kiriakou's attorney, Plato Cacheris, did not return phone calls or an email seeking comment.
Mr. Cacheris told reporters after Mr. Kiriakou's arraignment last week that his client planned to plead not guilty and that the defense might argue that the Justice Department is criminalizing what has become a long-standing practice between reporters and government sources.
The Justice Department issued a lengthy news release and affidavit to chronicle the moves it said Mr. Kiriakou took to leak the officers' names and then deny involvement.