Federal immigration authorities have begun granting tentative legal status to illegal immigrants under President Obama's deportation halt — and in some cases are even ignoring the administration's eligibility rules to stop deportations for those who shouldn't qualify, according to the chairman of the House Judiciary Committee.
Rep. Lamar Smith, Texas Republican, said he's learned some illegal immigrants who have been in the U.S. less than five years have had their deportations canceled, even though Mr. Obama and Homeland Security Secretary Janet A. Napolitano had listed the five-year mark as one of their criteria.
Mr. Smith also obtained documents laying out how U.S. Customs and Immigration Enforcement (ICE) officers should actively search for illegal immigrants who are "apparently eligible" to have their cases dropped. Those illegal immigrants then would be granted tentative status.
"President Obama is granting amnesty to illegal immigrants behind Americans' backs," Mr. Smith said. "Although administration officials told congressional offices that it would take 60 days to implement the president's amnesty plan, internal ICE documents show that illegal immigrants have already benefited from it, even though there are no standards in place."
Paper trail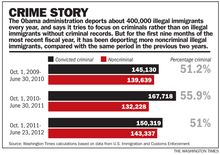 The Washington Times reviewed the documents, which also included an ICE memo telling illegal immigrants to contact U.S. Citizenship and Immigration Services, the agency that will judge most of these cases, and which is not taking requests until Aug. 15.
The agency didn't return a call seeking comment, but ICE spokeswoman Gillian Christensen said the policy was always intended to apply immediately to illegal immigrants already in the deportation system — which are the ones ICE deals with.
U.S. Citizenship and Immigration Services will eventually put in place a more formal process for illegal immigrants to come forward and proactively head off deportation.
Ms. Christensen said ICE will end up with a relatively small share of the eventual cases, and their review is easier because the agency already had begun using broad prosecutorial discretion last year.
"ICE is only reviewing cases for deferred action of individuals that are currently in removal proceedings or who were/are part of the agency's larger prosecutorial discretion review," she wrote in an email.
Obama's new orders
Last month, Mr. Obama and Ms. Napolitano said they would unilaterally halt deportations for illegal immigrants who would have qualified for the Dream Act — legislation that never passed Congress but would have granted a path to citizenship to many illegal immigrants age 30 and younger.
To avoid deportation under the new rules, illegal immigrants would had to have been brought to the U.S. by age 16; graduated high school or earned an equivalency degree; not been convicted of major crimes; and been in the U.S. for at least five years.
Those granted a stay of deportation are given permission to work in the U.S. — which could lead to hundreds of thousands of new, legal workers entering the economy.
The program has come under fire from both sides. Some immigrant-rights activists have said they'd be reluctant to recommend illegal immigrants come forward, saying the program doesn't yet have the kinds of assurances they need.