NEW YORK — What the Washington Nationals found when they arrived at Citi Field on Tuesday afternoon was history set to repeat.
It'd been less than a week since Nationals ace lefty Gio Gonzalez and New York Mets knuckleballer R.A. Dickey had faced off at Nationals Park. Gonzalez was chased early while Dickey baffled the Nationals' hitters.
Both ends of the Nationals' equation had something to prove in Tuesday night's rematch. So Gonzalez went out and tossed what might have been his most dominant performance of the season and Washington's hitters used a few unorthodox tactics to get to Dickey.
In the Nationals' 5-2 victory, they moved 18 games over .500 and picked up their ninth series victory in 12 tries against the National League East. For the best team in the NL, it appeared to be just another day.
"We're now playing up to our potential," said Nationals manager Davey Johnson. "We're not doing anything special."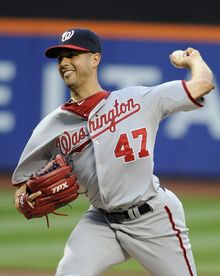 Ironically, it seemed they were.
A lineup that, outside of Ryan Zimmerman and Michael Morse, didn't have a single batter who'd gotten more than two hits in their career off of Dickey, touched him up for five runs (four earned) off eight hits — five of them in a four-run sixth inning.
Adam LaRoche, who struck the defining blow with a two-run homer into the second deck in right field in the sixth inning, switched bats before the game at the suggestion of Ian Desmond. Instead of going with his traditional 33-ounce model, he borrowed Roger Bernadina's lighter version. Danny Espinosa, who was 2-for-4 with a double and a single, hit right-handed off Dickey, a right-handed thrower, for the second straight game figuring that he hadn't been getting anywhere left-handed.
Hitting coach Rick Eckstein stressed to the hitters not to wait so long against Dickey, to attack the ball before it got too deep on them. Five straight hitters, from Morse through Jesus Flores, got hits in the sixth. So have the Nationals figured the knuckleballer out?
"I still say when he's on and controlling the knuckleball at 80 mph, a lot of luck goes into squaring the ball up," LaRoche said. "We just happened to do it a few times in that one inning. … Just close your eyes and swing hard."
Whatever the theory, it worked and the Nationals gave Gonzalez all the cushion he would need in seven innings of work in which he allowed one unearned run off two hits, struck out four and was ridiculously efficient, throwing just 87 pitches. He tied Dickey for the NL lead with 13 wins.
"You want to bounce back," Gonzalez said, having stewed over his previous outing, a 3 ⅓-inning debacle against the Mets last week in which he allowed six earned runs. "You want to want to bounce back as a pitcher. You don't want to feel down and out. These guys gave me some positive energy, positive feedback. I wanted to go out there and give them everything I can."
In the bullpen, as they warmed for the game, Flores could tell Gonzalez was seeking redemption. His always-sunny attitude was ramped up a notch. His intensity once they got on the mound as fervent as ever.
"He really was [motivated]," Flores said. "He felt today that we were going to have a good game and he was very positive that he was going to do well."
"He had something to prove and he was going to prove it," said Johnson, who reluctantly hooked him after seven innings because he saw a chance to tack on runs to their four-run lead.