A billionaire Chicago family that has donated and raised hundreds of thousands of dollars for President Obama got a deal from the federal government to avoid paying all of a $460 million settlement it agreed to in the 2001 failure of a Chicago-area bank it owned, while 1,400 former depositors are still owed more than $10 million in lost savings.
And now, 11 years later, the prospect that any of the depositors will get their money back is bleak.
The Pritzker family, which made its fortune in hotels and manufacturing, agreed to a $460 million settlement offer in December 2001 to avoid sanctions and civil lawsuits in the failure of Superior Bank in Hinsdale, Ill.
But after paying $316 million of the interest-free debt, the family quietly struck a deal with the Federal Deposit Insurance Corp. (FDIC) in June 2011 to discount the balance in return for paying off the debt early.
"We have been stiffed again," said Fran Sweet, 67, a depositor still owed $70,000. "It is a lot to lose. We are not wealthy people. We are white-collar and blue-collar workers who saved this money, [or] thought we saved this money."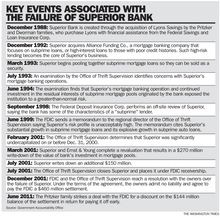 John W. Courtney, 67-year-old Vietnam veteran and construction worker still owed $50,000, said, "I worked hard for the money. [The Pritzkers] signed an agreement that got them off the hook, and now they are backpedaling. A deal is a deal. Who gave the FDIC the right to discount the note?"
Ms. Sweet and Mr. Courtney are among 1,400 depositors still owed $10.3 million at the end of March, records show. The FDIC Insurance Fund is still out $296 million after paying off Superior's insured depositors. It is highly unlikely the remaining depositors or the FDIC will receive much more money since nearly all of the settlement funds have been paid out, according to records and interviews.
"The depositors got nicked coming, going and after the fact," said Clinton Krislov, a lawyer who represents depositors whose accounts exceeded the $100,000 covered by FDIC insurance. "The depositors have gotten all they will from the Pritzkers."
The Office of Thrift Supervision (OTS), which regulates federal savings associations, closed Superior and its 18 branch offices on July 27, 2001. The bank failed, the OTS said, because of its aggressive strategy of making high-risk subprime loans to borrowers with troubled credit histories.
At the time, OTS said the bank "suffered from poor lending practices, improper record keeping and accounting, and ineffective board and management supervision."
Joint partnership
Superior was purchased in 1988 for $42.5 million by a partnership involving the Pritzkers and New York real estate investor Alvin Dworman. The partnership operated through Coast-to-Coast Financial Corp., a holding company.
It was one of the first banks in the 1990s to turn to subprime loans, which target high-risk borrowers at higher interest rates. Recipients of those loans often have delinquency or default histories, bankruptcies or limited debt experience, and eventually begin defaulting on their mortgages.
The dramatic rise in those defaults and foreclosures, banking and government analysts said, eventually led to the housing crash and resulting financial crisis a decade later.
Despite the bank's failure, the Pritzkers have continued to make money — 11 of the heirs are billionaires, according to Forbes magazine. One of those heirs, Penny Pritzker, was the national finance chairwoman of Mr. Obama's 2008 presidential race and has "bundled," or collected, between $100,000 and $200,000 for his current campaign.