A Los Angeles man who launched an expletive-laden tirade against Sarah Palin's daughter, Bristol, has filed a lawsuit against the Lifetime Network alleging he was taped for her reality show without his knowledge or consent.
In a federal lawsuit filed Wednesday, Stephen Hanks seeks general and punitive damages, saying he's a victim of defamation and invasion of privacy after video of the heated confrontation was aired.
Mr. Hanks alleges he wasn't told the film crew at a West Hollywood bar in September was shooting footage for the reality show "Bristol Palin: Life's a Tripp."
The show, which premieres Tuesday, will follow the single mother for 14 half-hour episodes.
In recently released video from the upcoming show, Mr. Hanks heckles Ms. Palin while watching her ride a mechanical bull at the bar, yelling out, "Your mother's a whore."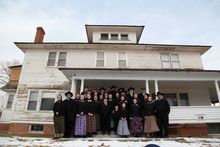 After Ms. Palin confronted the man over the insult, their conversation grew heated and he called the 21-year-old "white trash from Wasilla."
In the lawsuit, Mr. Hanks alleges that Ms. Palin also defamed him in a magazine and called him a homosexual.
On her blog, Ms. Palin complained about bullying when recalling the incident, saying "a guy started yelling at me and called my mom terrible names, but couldn't tell me one decent reason why he was filled with such hate."
Judge not convinced to block 'Glass House'
A federal judge on Friday said he's inclined to allow ABC to air its new reality competition series "The Glass House" over rival network CBS' objections that the show copies "Big Brother."
U.S. District Judge Gary Feess said Friday he was not persuaded that CBS had proved it would be harmed if "Glass House" aired. He said the new show's audience participation element is likely to make it different.
ABC has said "Glass House" contestants will have to curry audience popularity to succeed on the series.
"The audience involvement in particular in 'The Glass House' is a constant role in this show as it proceeds," Judge Feess said. "I think is very likely to induce quite different behavior than one would expect to see in the 'Big Brother' show."
Judge Feess said he would look at issues raised during a hearing Friday, but he didn't think his tentative decision would change.
CBS had sought to block the show from airing over concerns it violated copyright and trade secrets related to its hit show "Big Brother." "Glass House" is scheduled to air Monday night after "The Bachelorette."