A first-of-its-kind survey of 10,000 American youth who say they are a sexual minority finds that most feel accepted by their families, but they often struggle with community acceptance and even believe they will have to leave their hometowns to be happy someday.
This survey is "a stark wake-up call to the daily toll that discrimination takes on vulnerable young people," said Chad Griffin, president of the Human Rights Campaign, which advocates for lesbian, gay, bisexual and transgender (LGBT) people.
"Growing up in small-town Arkansas, I remember what it's like to not know a single other gay person," Mr. Griffin said in a letter to supporters.
The Growing Up LGBT in America report, released Thursday, was conducted with research companies Harris Interactive Service and Greenberg Quinlan Rosner, and promoted by the Trevor Project, an organization for LGBT youth.
Some 10,030 self-identified LGBT youth and 500 heterosexual youth ages 13 to 17 were surveyed about their lives.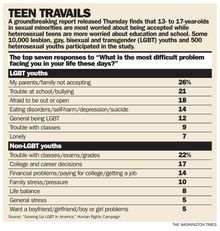 A remarkable finding was that "the top concerns expressed by LGBT teens were all about their identity and fitting in," said Michael Cole-Schwartz, director of communications for the Human Rights Campaign.
More than half of LGBT youth said they were "out" to their immediate family, and 67 percent said their families were accepting of LGBT people.
But when compared to heterosexual youth, LGBT youth were twice as likely to say they had been verbally harassed or called names at school.
Moreover, only 37 percent of LGBT youth said they were happy, compared with 67 percent of heterosexual teens. And while 83 percent of LGBT youth believe they eventually will be happy, more than half indicated that they would have to leave their hometown or city to achieve it.
The survey is "a terrific snapshot of the experiences of LGBT youth across the country," said Jennifer Chrisler, executive director of Family Equality Council. "It shows the importance of family acceptance and family support for these young folks."
"For all the young people we work with, whether they are gay, lesbian, bisexual or straight, acceptance is the No. 1 issue … it's something that all young people really want," said Debra Hauser, president of Advocates for Youth.
"The idea that young people hear lots of anti-gay rhetoric and slurs" - the survey found that 92 percent said they had heard negative messages about being LGBT - "feeds into this idea and feeling that they are 'less than,' " Ms. Hauser said. "So it's really, really important that young people are accepted and loved for who they are."
Linda Spears, vice president for policy and public affairs at the Child Welfare League of America, said the Human Rights Campaign survey shows that LGBT youth are potentially more vulnerable because they are more easily alienated from their parents and misunderstood by their communities and schools - "the places where most kids turn to for growth, nurturance and support."
In the child-welfare system, LGBT youth are often seen in the runaway, homeless and "thrown-away" populations, Ms. Spears said.
Civil Welfare League policy goals are to improve agency services and educate parents and schools about wrap-around services for these youth, "so they can get the warm hugs that they need," she said. "It's critically important that we give kids what they need to grow up."