Even with big salaries, Metro can't fill its jobs
Silver Line to pose major test for hiring
Second of three parts
The mechanics tasked with maintaining the Washington Metropolitan Area Transit Authority's chronically broken escalators start at $81,000 a year. Bus driver pay goes as high as $114,000 for anyone with a driver's license and a GED.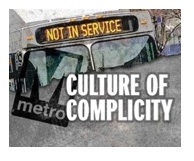 Yet despite an economy that has left people from all walks of life looking for work, Metro says it can't find qualified job applicants.
The transit system's failure to meet its personnel needs was largely responsible for the $88 million in overtime it paid in 2010. The overtime paid to some station managers exceeded their base salaries, and maintenance workers made as much as $100,000 in overtime alone, according to an analysis of the most recent records officials would provide.
A personnel system that appears broken will be put to the test like never before as the agency prepares to add 1,000 new positions, an expansion coinciding with the opening of the Silver Line to Washington Dulles International Airport, that will push its total employee ranks past 12,000.
With nearly 1 in 10 existing positions unfilled and an additional 5 percent turnover each year, the chance of successfully filling all the new positions is virtually nil, said Tom Downs, a member of the Washington Metropolitan Area Transit Authority Board.
"There are 1,700 people before you get to that 1,000," he said of the new positions, which officials say are mostly for track maintenance, the new Silver Line and transit police.
Construction on the Silver Line began in 2008 and the 11.6-mile first phase is scheduled to open in 2013. The 11.5-mile second phase will be opened in 2016.
Current Metro policies, The Washington Times reported Tuesday, have led to a workforce whose largest job category is 97 percent black and has only 70 white women out of 10,000 non-executive workers, and where disciplinary and pay records document that some workers get away with chronic malfeasance while others are disciplined frivolously or harassed.
Metro officials have said that 1,000 applicants are whittled to a pool of 30 candidates and even fewer hires. Yet the cream of the crop, court and Metro documents and interviews showed, is rife with convicts, drug addicts and the marginally literate, while others with college degrees or strong work ethics have documented an inability to succeed within Metro.
Officials declined to say at what stage, or for what reasons, the 970 applicants were rejected.
"What happens to the 970? We're looking for people who are qualified for the position. You get some people who are not qualified," agency spokesman Dan Stessel said. "You should be happy we have hiring standards."
Only 1 in 4 applicants passes Metro's three-part test with reading, behavior and customer-service sections. But a statistical analysis of test results shows curious results.
In one class, nearly everyone who could read, according to the literacy test, was marked down as failing a "behavior assessment." Everyone deemed tops on behavior, meanwhile, failed the other segments.
View Entire Story
© Copyright 2014 The Washington Times, LLC. Click here for reprint permission.
About the Author
Luke Rosiak is a projects reporter on The Washington Times' investigative team. He formerly covered lobbying and campaign finance for two watchdog groups as well as transportation for The Washington Post. Luke can be reached at lrosiak@washingtontimes.com.
Latest Stories
Latest Blog Entries