The Air Force late last month convened a summit in Ohio to address the most vexing problem of its premier jet fighter — pilots becoming dizzy from oxygen deprivation while flying the supersonic F-22 Raptor.
Scientists, manufacturers and Raptor pilots at Wright-Patterson Air Force Base brainstormed on why aviators — 25 to date — are returning from missions suffering from hypoxia, or oxygen deprivation.
"It was an update on where we were at," said Lt. Col. Tadd Sholtis, a spokesman for the Air Force Air Combat Command at Langley Air Force Base. "We're kind of closing in on some ideas."
The Air Force hopes information-sharing, such as the April 26 Wright-Patterson summit, will show the 200 Raptor pilots, support crews and families that everything possible is being done.
For two pilots, the strategy didn't work. Dressed in flight suits, the two Virginia Air National Guard pilots engineered an embarrassing event for the Air Force: They appeared Sunday on CBS' "60 Minutes."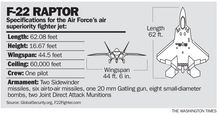 Maj. Jeremy Gordon and Capt. Josh Wilson said they suffered severe cases of hypoxia and refused to fly the F-22 in January. Capt. Wilson has been reprimanded.
"I am not comfortable flying in the F-22 right now," Maj. Gordon said.
"In a room full of F-22 pilots, the vast majority will be coughing a lot of the times," he said. "Other things, [such as lying] down for bed at night after flying and getting just the spinning-room feeling, dizziness, tumbling, vertigo kind of stuff."
Veteran aviators cannot recall active-duty pilots ever going on national TV to knock the military aircraft they fly, much less the Air Force's $79 billion crown jewel.
"I think it's a shame," said retired Air Force Gen. Merrill A. McPeak, the service's chief of staff in the early 1990s. "They must be planning on getting out of the Air Force and running for Congress, because that's not the way professionals would deal with this problem. I would invite them to try a different plane — an airliner."
Strong reactions
Gen. McPeak is one of the F-22's founding fathers. He helped write the requirements for what would become a stealthy air-superiority jet that would fly higher and accelerate faster than any previous fighter.
As chief, he made an important change by ordering manufacturer Lockheed Martin Corp. to add a bomb bay to give it not just air-to-air lethality but also air-to-ground capability to strike air defenses.
"Unless we had an air-to-ground munitions capability that really made it a dual-role fighter, it wouldn't have survived congressional scrutiny," Gen. McPeak said. "I'm a strong volunteer to fly the airplane myself."
Some retired top brass blame the chain of command, from the Guard unit up to Air Combat Command, for letting the two pilots' complaints evolve into a national TV spectacle.