Need a primer for this weekend's lacrosse final four? Here's a good A-to-Z start as Duke, Loyola, Maryland and Notre Dame prepare to converge upon Foxborough, Mass., for Saturday's semifinals:
A is for Niko Amato, Maryland's up-and-down goalie. The sophomore entered the quarterfinals with a .473 save percentage in his previous nine games, but came up with four huge stops in the first quarter against Johns Hopkins to help the Terps advance.
B is for balance, a trait Notre Dame uses to its advantage. The Fighting Irish are the only remaining team in the field without a 30-goal scorer (Sean Rogers leads the team with 21 goals) but have six different leading scorers in their past six games.
C is for Joe Cummings, the dependable leader of Maryland's offense who understands the right time to attack and the appropriate situations to orchestrate. With 111 points (45 this season), he needs two more to crack the top 30 in school history.
D is for Duke coach John Danowski, who is a blistering 95-23 with the Blue Devils with one national title. Duke has gone to the final four in all six of Danowski's seasons, tying Syracuse's John Desko (1999-2004) for most consecutive semifinal appearances to begin a coaching stint.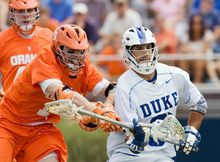 E is for Maryland's Michael Ehrhardt, part of a stout reconstructed Terrapins defense under assistant coach Kevin Warne. The Terps replaced three starting defensemen, their top long pole and two of their top three short sticks and still yield only 7.75 goals per game.
F is for Loyola defenseman Joe Fletcher, who batted away a potentially game-tying goal in Saturday's quarterfinal defeat of Denver to clinch the Greyhounds' victory. "We always say he's got a spider web," long pole Scott Ratliff said. "Anything within his reach, he gets his hands on."
G is for groundballs, and no one left in the field is as proficient at snagging them as Duke long pole CJ Costabile. The senior had a career-high 15 groundballs Sunday and has a school-record 368 for his career.
H is for the Haus brothers who will face each other in the semifinals. Maryland midfielder John Haus has 15 goals and 16 assists. Duke's Will Haus was an all-ACC tournament team selection as a freshman this year as a defensive midfielder.
I is for individual honors, and the biggest one in the sport probably will be decided this week. The Tewaaraton Award has gone to someone who played on Memorial Day for 10 straight years. The finalists left in the field are Costabile and Loyola's Mike Sawyer.
J is for Jesuits, many of whom likely are pleased at the past few months of Loyola athletics. Men's basketball (first NCAA bid since 1994), women's lacrosse (NCAA quarterfinalists) and men's lacrosse have made postseason splashes this year.
K is for John Kemp, Notre Dame's superb goalie who flirted with becoming the first goalie since 2006 to record a sub-6.00 goals against average. It's up to 6.22, but no matter; he still leads the country with a .636 save percentage.
L is for Loyola's Eric Lusby, who is playing as a graduate student after missing all but two games last season with a knee injury. He's zipped in 45 goals this season, including five in a quarterfinal defeat of Denver.
M is for Michael Manley, Duke's top takeaway artist with 26 caused turnovers. He's also started 73 career games, more than any other player in the final four.
N is for New England, which will provide the stage for Memorial Day weekend for the third time in five years. With no teams within 380 miles of Foxborough, Mass., the impact on attendance (if any) will be an off-the-field subplot.