First of three parts
BERLIN — Germany has leveraged its economic strength to take the leading role in addressing Europe's debt crisis, but ironically it owes much of that success recently to the appeal of German products in emerging countries such as China and Russia — far outside its traditional markets in Europe.
German companies' unusual success in selling pricey, top-quality goods including luxury cars and new kitchens around the world has given citizens here rising confidence that their characteristic thrift, perfectionism and hard work can make their country a role model for the rest of Europe — and indeed the world — as governments from Athens to Washington struggle to get their fiscal houses in order.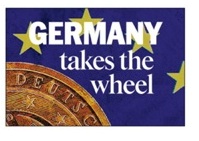 As the largest economy remaining with an untarnished AAA credit rating, German leaders have insisted that Greece, Italy, Spain and other European countries learn to live within their means as a condition of staying in the bloc of countries using the euro and getting an estimated $600 billion in loans and guarantees funded by Berlin.
The strictures imposed by Germany, combined with the turmoil spawned by the debt crisis, have led to major government upheavals and increasing social strife in the southern rim of Europe. As fellow EU nations are forced into an era of recession and austerity, resentment is mounting toward the Teutonic giant.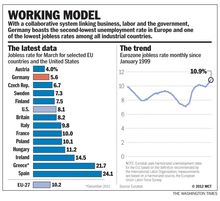 From the streets of Athens and Madrid, where nearly 1 in 5 workers is unemployed and protesters have violently denounced Germany's demands, to the cocktail parties of London, biting outbursts laced with references to Germany's aggression in World War II have become common.
The spreading turbulence took as its latest victim French President Nicolas Sarkozy, a conservative who gave support and legitimacy to the austerity agenda promoted by his friend and collaborator, German Chancellor Angela Merkel.
Mrs. Merkel sought to influence the French election this spring by endorsing Mr. Sarkozy over his opponent, Socialist candidate Francois Hollande. But the move may only make the French electorate's vote Sunday for a left-leaning government appear all the more a stinging slap in the face for Germany.
German leaders in interviews here seem taken aback at the backlash, arguing that other wealthy Northern European countries also are demanding budgetary restraint from their southern neighbors in exchange for bailout loans. Some shrug it off, likening critics to spoiled children who are angry about not always getting their way.
"Our authority and our influence is mainly based on our economic success. People envy us for this," German Foreign Minister Guido Westerwelle said at a recent gathering of German manufacturers.
Filling a void
Germany's emergence as the dominant political power in Europe owes in no small part to America's shrinking influence in Continental economic affairs since the euro crisis broke out two years ago. U.S. officials have mostly sat on the sidelines, cheering on efforts to get Europe's debts under control and offering economic advice, which often is ignored in Berlin.
Analysts say it may have been inevitable that Germany would resume its role as the economic engine of a reunited Europe after nearly a century punctuated by wars, occupation and political division. They say the real question was whether it would rise gracefully to the political responsibilities that come with such economic power.
"The country was unprepared for the promotion," said Thomas Kleine-Brockhoff, an analyst with the German Marshall Fund. "Germans are visibly uncomfortable as the boss and brains of European economic affairs" after having grown comfortable in their role as only one of several leading nations within the trans-Atlantic alliance.
Suddenly, "European countries are looking to Germany to save the day," he said, but are all the while resenting their dependence. Meanwhile, Germany is not used to having to "propose solutions for an entire continent" and "patiently explain" German motives to distrustful citizens of other nations, he said.