ANALYSIS/OPINION:
To D.C. Public Schools Chancellor Kaya Henderson: Walk with all deliberate speed, make clear tread marks and watch your back.
While it seems as though Ms. Henderson is trying to clear out schoolhouses to help make way for the two things that matter most — teaching and learning — it's clear not all stakeholders are on the same school-reform road.
For some, their mission is command and control.
This became obvious at last Thursday's hearing on school truancy and again this Monday evening, where, at a forum on charter schools' promises and challenges, D.C. Council member Tommy Wells seemed delighted to learn that none of his Ward 6 schools is scheduled to be closed.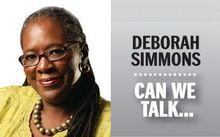 His relief wouldn't be newsworthy but for the fact that Mr. Wells is a member of the old-guard school of command and control, using rungs on the school board to climb the ladder to city hall.
A member of the Board of Education from 2001 to 2006, Mr. Wells is pressing for charter schools to come under the heavy thumbs of government control. He wants charter schools to meet many of the same onerous bureaucratic challenges facing traditional public schools, and he wants to burden charters with unreasonable preference demands.
Preference demands work this way: Parents who do not want their children to attend a neighborhood school must seek special permission for them to go elsewhere. Approval to attend a school outside of the neighborhood boundary considers factors like legacy, sibling preference, projected enrollment and proximity to the school. It also gives preferential treatment to children in feeder schools.
That works fine on Capitol Hill, whose cluster of pre-K through grade 12 schools have remained unscathed for a generation, but not so much for other parts of the city.
For example, the closing of two junior high schools in Ward 5 forced some residents to look at traditional public schools in neighboring Wards 4 and 6. Suffice it to say, neither option was pleasing to hundreds of families who did not want tweens and barely teens traversing the city for before-, during- and after-school programs.
And even next year, when Thurgood Marshall Elementary is scheduled to close, D.C. school officials have to develop a safe transportation plan.
Mr. Wells knows as much and should remember parents' concerns from his days on the school board, where he lobbied for such a school-preference policy.
D.C. charter authorities don't need the headache.
As one of only two former school board members currently seated on the council (Ward 8's Marion Barry is the other), Mr. Wells should focus his energies on helping Ms. Henderson and other school authorities replicate the positive academic programs at charter and magnet schools, as well as the much-sought-after Wilson High.
As for Ms. Henderson, she could better serve the school system and the children of the city if she remembers that the inclinations of some can undermine her determination to stay focused on teaching and learning.