In his first testimony since stepping down last week, former CIA Director David H. Petraeus told a closed Capitol Hill briefing Friday that the Sept. 11 attack on the U.S. consulate in Benghazi, Libya "was a terrorist attack and there were terrorists involved from the start," Rep. Peter T. King said Friday.
The New York Republican, who chairs the House Homeland Security Committee, spoke to reporters after emerging from a closed-door, classified briefing by Mr. Petraeus, who visited Libya last month to interview survivors of the attack in which U.S. Ambassador J. Christopher Stevens and three other Americans were killed. Critics have repeatedly questioned the sequence of events and motivations of the attackers offered by top Obama administration officials in the months since the incident.
Mr. King noted that Mr. Petraeus' testimony on Friday differed from a classified briefing he gave lawmakers on Sept. 14, three days after the attack, in which he linked it to protests earlier that day in Cairo against an American-made video denigrating Islam's prophet Muhammad.
"The clear impression we were given [in the Sept. 14 briefing] was that the overwhelming amount of evidence was that it arose out of a spontaneous demonstration and it was not a terrorist attack," said Mr. King.
On Friday, however, Mr. Petreaus "told us that this was a terrorist attack, and there were terrorists involved from the start," Mr. King said.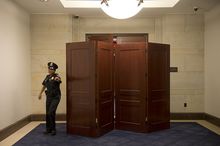 The congressman said Mr. Petraeus' use of the word "spontaneous" was "minimized" in his account on Friday.
But Rep. Adam Smith of Washington, the top Democrat on the House Armed Services Committee, said suggestions the administration's initial talking points for Benghazi had been changed are "completely wrong."
Mr. Smith, who attended another briefing Friday with intelligence officials that included Director of National Intelligence James Clapper, said the attack on the consulate building was "somewhat spontaneous."
"Nobody has ever denied that it was a terrorist attack. What we've questioned is how far planned was it," Mr. Smith said. "It was both a terrorist attack and spontaneous, and why that has to be mutually exclusive is completely beyond me."
Lawmakers are trying to determine why Obama administration officials said publicly long after the attack that it had resulted from spontaneous protests, as well as the administration's response to the assault and security concerns before it.
Rice comments questioned
Mr. Petraeus on Friday met with the Senate Intelligence Committee, led by Sen. Dianne Feinstein, California Democrat, and the House Intelligence Committee, led by Rep. Mike Rogers, Michigan Republican.
A key issue is comments by U.S. Ambassador to the United Nations Susan Rice, who appeared on several talk shows on the Sunday after the attack and said that all the intelligence gathered to that time pointed to the attack as arising from spontaneous protests that then turned violent.
Critics have said the administration's initial account was an attempt to keep the controversy from boiling over during the presidential campaign, and that the real story would undercut arguments from Mr. Obama and others that al Qaeda and other terrorist groups had been largely rendered ineffective in the region.
Supporters have said Mrs. Rice's comments and those of other officials were based on the best U.S. intelligence assessments at that time.