Myanmar's pro-democracy opposition leader Aung San Suu Kyi said on Tuesday that she supported the easing of U.S. sanctions on the Southeast Asian nation even though democratic reforms in her country had only cleared the first hurdle.
"I do not think that we need to cling onto sanctions unnecessarily," Mrs. Suu Kyi said at the U.S. Institute of Peace in Washington.
"I do support the easing of sanctions because I think that our people should start taking responsibility for their own destiny," she added. "I do not think that we should depend on U.S. sanctions to keep up the momentum of our movement toward democracy. We have got to work at it ourselves."
Mrs. Suu Kyi said there was no evidence that the sanctions had hurt Myanmar economically, but they have had a great political impact.
"The fact that so many people tried to blame sanctions for the economic ills of the country fully proves how potent it was as a weapon, not that it hurt us economically," she said.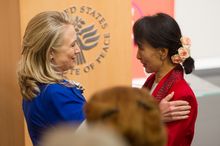 The International Monetary Fund found that international sanctions had a very little economic impact on Myanmar, the Asian nation formerly known as Burma.
The Obama administration is considering easing a ban on imports from Myanmar. It has mostly waived financial restrictions, paving the way for U.S. businesses to invest there.
In July, the Obama administration sent diplomat Derek Mitchell to Myanmar as the first U.S. ambassador in two decades.
Mrs. Suu Kyi, a former political prisoner and Nobel Peace Prize winner, arrived in Washington on Monday to start an 18-day visit to the United States, her first in four decades. She is due to receive Congress' highest honor, the Congressional Gold Medal, on Wednesday.
In her speech Tuesday, she said that her country is still a long way from true democratic change.
"We have crossed the first hurdle, but there are many more hurdles to cross," she said in her first public appearance of her visit.
Earlier on Tuesday, Mrs. Suu Kyi met with Secretary of State Hillary Rodham Clinton at the State Department.
Mrs. Clinton, who also spoke at the Washington think tank, did not mention the remaining sanctions on Myanmar.
The military-backed government allowed Mrs. Suu Kyi's National League for Democracy to participate in parliamentary elections on April 1. It won 43 of the 44 seats it contested. Mrs. Suu Kyi, who had spent 15 of the past 20 years in prison or under house arrest when she was released in November 2010, is now a member of parliament.
In the past year, the government has released hundreds of prisoners of conscience, but more than 200 remain behind bars. It has legalized political parties and eased restrictions on the media. The government has also passed laws to strengthen workers' rights.