ANALYSIS/OPINION:
With the 51st pick in the NFL draft, the Washington Redskins select … we'll know soon enough.
The draft starts Thursday and the ratings around town don't figure to be all that high as the Redskins don't have a selection that night. You'll recall this year's first-round pick (and next year's) were traded so the team could get in position to pick second last year and draft Robert Griffin III.
It's time to pay attention Friday, when the Skins will make their first pick. With No. 2, you expect an immediate impact player. With No. 51? Who knows what you'll get? That's kind of what makes the draft fun.
Thanks to the great work of those who put together Pro-Football-Reference.com, it is easy to get a quick look at the history of the 51st pick.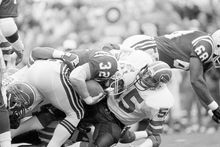 The first No. 51 pick was Ettore Antonini, an end out of Indiana who went to the Chicago Cardinals in 1936. Last year's No. 51 was defensive tackle Jerel Worthy out of Michigan State, who went to the Green Bay Packers. He made four starts and was credited with 2.5 sacks.
In between? Some pretty good hits, some pretty good whiffs. And some interesting names.
If the Redskins go defense with the pick, as most analysts expect, the draftee will have an instant bond with his defensive coordinator.
Jim Haslett is a No. 51, taken in 1979 by the Buffalo Bills. A linebacker, Haslett played collegiately at Indiana (Pa.), not to be confused with the Indiana University attended by the first No. 1, Mr. Antonini.
Haslett had a solid playing career. He played eight seasons, seven with the Bills and one with the Jets. He started every game he played his first three seasons.
Clinton Portis surely rings a bell around here. He, too, is a member of the 51 club, taken in that spot in 2002 by Denver after a collegiate career at Miami.
Traded to the Redskins after two seasons with the Broncos, Portis rushed for at least 1,262 yards six times. He had three seasons with more than 1,500 yards. Two of them came in his two seasons in Denver.
He finished his career in 2010, just 77 yards shy of 10,000 for his career.
The guy who drafted Portis? Current Redskins boss Mike Shanahan. In an interesting twist noted by Rich Tandler on ComcastSportsNet.com in February, that was the second of three straight years Shanahan got to make the 51st pick.
The first of those picks, defensive end Paul Toviessi, is one of two players selected 51st since 1970 to never play a down in the NFL.