President Obama on Thursday canceled joint military maneuvers between U.S. and Egyptian troops scheduled for next month as he seeks to find levers the U.S. can use to quell deadly clashes in the North African nation and force both sides back into negotiations.
The death toll in Egypt climbed past 600 as the military-appointed government continued its bloody attack on supporters of ousted Islamist President Mohammed Morsi and the Muslim Brotherhood, which vowed to fight until it had defeated the generals. The Brotherhood implored its backers to take to the streets in defiance of a newly imposed state of emergency.
The government, which appears to have set its sights on destroying the political viability of the Brotherhood, said it would intensify its counterattacks and would use live-fire ammunition to fight the protesters.
---
SEE ALSO: Obama finds time for Egyptian condemnation — and then right back to golf
---
Scores of Christian churches were attacked, police were gunned down and government buildings in Giza were set ablaze as the violence expanded.
The bloodshed drew condemnation from all sides, and Mr. Obama — taking a short break from his vacation on Martha's Vineyard — said Egypt is now on "a more dangerous path."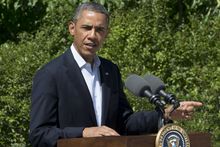 He said the U.S. no longer will take part in the Bright Star military exercises that American and Egyptian forces conduct every other year.
---
SEE ALSO: As Egypt erupted, White House tweeted THIS photo of Biden and a camel
---
"While we want to sustain our relationship with Egypt, our traditional cooperation cannot continue as usual," the president said.
Mr. Obama insisted that the U.S. is not taking sides in the dispute but that the violent clashes cannot go without an American response.
The interim Egyptian government later rebuffed Mr. Obama, warning that his statement, "while it's not based on facts … can empower the violent militant groups and encourage them in their destabilizing discourse."
Canceling the military exercises will be seen as a blow to a military that values its close relationship with U.S. forces and gets an annual subsidy of more than $1 billion from Washington. Mr. Obama also said he has asked his advisers to look at other avenues of action.
But the president ducked questions about another step: labeling the military ouster of Mr. Morsi a "coup," which would require the U.S. to cut off its military assistance to Egypt — a decision the administration would prefer not to make.
Sen. Rand Paul, Kentucky Republican, has been pushing for an end to aid since the beginning of the crisis, and he chastised the administration Thursday for delaying.
"With more than 500 dead and thousands more injured this week alone, chaos only continues to grow in Egypt," Mr. Paul said in a statement. "So Mr. President, stop skirting the issue, follow the law, and cancel all foreign aid to Egypt."
Just before Congress fled Washington for a five-week summer vacation, the Senate voted against a Paul proposal to stop military assistance to Egypt, tabling the amendment on a 86-13 vote.
Sen. John McCain, Arizona Republican, also blasted Mr. Obama's response.