Standing on the spot where the Rev. Martin Luther King Jr. famously urged Americans not to judge one another by the color of their skin, President Obama said Wednesday that Americans must use the example of the civil rights marchers of 50 years ago to press for his brand of economic justice for the middle class.
"We must remind ourselves that the measure of progress for those who marched 50 years ago was not merely how many blacks could join the ranks of millionaires," Mr. Obama said on the steps of the Lincoln Memorial. "It was whether this country would admit all people who were willing to work hard, regardless of race, into the ranks of middle-class life."
Reciting many of the same themes from his re-election bid and his budget battles with congressional Republicans, the president said the nation's leaders must attack the problems of income inequality to live up to King's dream of social justice.
---
SEE ALSO: Thanks for nothing: Despite promises, blacks lag behind in Obama economy
---
"The position of all working Americans, regardless of color, has eroded, making the dream Dr. King described even more elusive," Mr. Obama said. "Inequality has steadily risen over the decades."
As the nation's first black president, Mr. Obama capped a rainy day of rhetoric and music commemorating the 50th anniversary of King's legendary "I Have a Dream" speech and the March on Washington for Jobs and Freedom in 1963.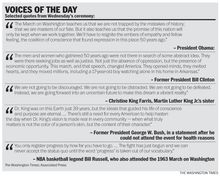 Americans are increasingly pessimistic that progress is being made toward King's goal of racial equality. A Pew Research Center poll this month found that only 26 percent of blacks believe conditions have improved for black Americans in the past five years. The same poll in 2009 said 39 percent of blacks felt conditions were improving.
---
SEE ALSO: MLK family members in bus crash while leaving 'Dream' rally
---
Mr. Obama noted in his speech, "The gap in wealth between races has not lessened; it's grown." He later threw in the slogan of his 2008 campaign, saying, "We might not face the same dangers as 1963, but the fierce urgency of now remains."
The president's arrival was dramatic. He emerged from the interior shadows of the Lincoln Memorial, holding hands with first lady Michelle Obama and descending the marble steps, followed by former Presidents Jimmy Carter and Bill Clinton.
Republican former Presidents George H.W. Bush and George W. Bush were invited but couldn't make it, resulting in an all-Democratic presidential cast at the podium.
Mr. Obama praised King's legacy and spoke even more passionately about the civil rights marchers of modest means who fought the struggle decades ago.
"Because they marched, eventually city councils changed … and Congress changed and, yes, eventually the White House changed," Mr. Obama said to cheers. "America changed for you and for me, and the entire world drew strength from that example. That's the depth that I and millions of Americans owe those maids, those laborers, those porters, those secretaries — folks who could have run a company, maybe, if they had ever had a chance."
The president said the courage of those long-ago marchers is an example of how to achieve social goals today, as he gave a plug for his domestic agenda, including an increase of the minimum wage and his health care law.
"With that courage, we can stand together for good jobs and just wages," Mr. Obama said. "With that courage, we can stand together for the right to health care in the richest nation on earth for every person."
A series of speakers including Oprah Winfrey and Caroline Kennedy delivered a litany of liberal themes. Many invoked hot-button issues such as gun control, the shooting death of black teenager Trayvon Martin and the Supreme Court's ruling on voting rights to call for a new era of civil rights activism.
Many of the invited speakers said civil rights in America are on the decline, and some invoked imagery of racial intimidation and the Jim Crow era as they issued calls for economic justice and equality.