President Obama and his top aides tried to rally support Thursday for retaliatory strikes in Syria, saying they remain convinced that the Assad regime used chemical weapons, but hopes for an international coalition took a major hit when the British Parliament voted against military action.
British lawmakers questioned the strength of the claims that forces loyal to President Bashar Assad used poison gas to attack rebels in a Damascus suburb last week — a skepticism that U.S. lawmakers share, amid reports that U.S. intelligence officials are uncertain who controls Syria's stockpiles of poison gas.
Senior officials said Mr. Obama is still considering unilateral action without his British allies, arguing that core U.S. national security interests are at stake. The White House steadfastly stood by Mr. Obama's claim that Syria attacked its own citizens with chemical weapons, saying the evidence is "very convincing."
---
SEE ALSO: Take your pick: Syria is a target-rich environment for U.S. missiles
---
"There is a preponderance of evidence," White House spokesman Josh Earnest told reporters, though he said the administration isn't ready to make public an unclassified report detailing that evidence.
Late Thursday, the administration held a 90-minute conference call with 26 high-ranking members of Congress, who are on a five-week summer recess.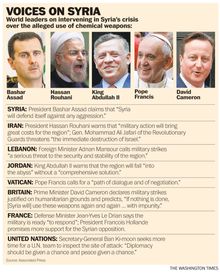 Rep. Eliot L. Engel of New York, the senior Democrat on the House Foreign Affairs Committee, said the administration told them that Mr. Obama was "still weighing his options and will continue to consult with Congress."
---
SEE ALSO: PRUDEN: Up the hill and down again on Syria issue
---
Sen. James M. Inhofe, Oklahoma Republican, said administration officials set out a only "broad range of options" with no timetable, and Rep. Howard P. "Buck" McKeon, California Republican, said the administration is still in the process of declassifying evidence on the use of chemical weapons.
All those reactions stand in contrast to speculation earlier in the week that this briefing would be a semi-official notification that strikes on Syria would soon commence.
The briefing came hours after a more open debate at the British House of Commons, which Prime Minister David Cameron called back into session this week to debate military action in Syria. Mr. Cameron had hoped for approval, but members of Parliament rejected his overtures on a 285-272 vote.
"I strongly believe in the need for a tough response to the use of chemical weapons, but I also believe in respecting the will of this House of Commons," Mr. Cameron said afterward. "It is very clear tonight that while the House has not passed a motion, it is clear to me that the British Parliament, reflecting the views of the British people, does not want to see British military action. I get that and the government will act accordingly."
The Obama administration said after the vote in Parliament that the U.S. is willing to act alone against Syria.
"We have seen the result of the Parliament vote in the U.K. tonight," National Security Council spokeswoman Caitlin Hayden said in a statement. "The U.S. will continue to consult with the U.K. government — one of our closest allies and friends.
"As we've said, President Obama's decision-making will be guided by what is in the best interests of the United States," she said. "He believes that there are core interests at stake for the United States and that countries who violate international norms regarding chemical weapons need to be held accountable."
Still, the defeat further isolates Mr. Obama, who has decided against pushing for a vote at the United Nations to approve military action, citing Russia's opposition.
After signaling that it hoped for quick action, the White House appeared to back away from a timetable. Mr. Earnest said the phone briefing for Congress was just the latest and that "there will be additional consultations tomorrow and in the days and weeks ahead."