Russian moves in Ukraine and other nations carved out of the Soviet Union are reviving memories of the Cold War power struggles for influence between Moscow and Washington.
The fierce standoff in Kiev between pro-Western and pro-Russian elements in Ukrainian society is the latest manifestation of the revival of the competition between the two Cold War superpowers. Despite conflicting signals from Kiev in recent days, many see Russian President Vladimir Putin with the clear initiative in the contest.
Regional analysts say influence has manifested itself in multiple ways as part of Moscow's successful drive to pressure the government of Ukrainian President Viktor Yanukovych to drop plans to sign a major trade and political agreement with the European Union.
---
SEE ALSO: Inside China: Ukraine gets nuclear umbrella
---
The agreement could have clinched a tumultuous shift by the strategic former Soviet republic in the past decade toward embracing Western economic and political values. Mr. Yanukovych's sudden decision to turn his back on the deal late last month infuriated the nation's opposition parties and sent millions of pro-Western, pro-democracy demonstrators into the streets of Kiev.
The Obama administration was so concerned that it dispatched Assistant Secretary of State Victoria Nuland to Kiev this week for emergency talks with Mr. Yanukovych.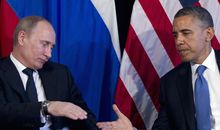 "I hope the people of Ukraine know that the U.S. stands with you in your search for justice, for human dignity and security for economic health, and the European future that you have chosen and deserve," Ms. Nuland told reporters outside the presidential compound Wednesday after a two-hour "tough but realistic" private talk with Mr. Yanukovych.
Russia made its most obvious power play last summer when Moscow suddenly stopped all Ukrainian imports. The block was lifted a week later, but regional analysts say Mr. Putin's message to Kiev — and the European Union — was clear. It was hammered home with a subsequent threat to cut off Ukraine's access to energy from Russia if Ukraine pursued the EU pact.
"Putin's closure of Russian markets to Ukrainian exports and his threat to raise natural gas prices struck at the heart of the personal interests of many of the oligarchs who dominate Ukrainian politics," said Matthew Bryza, a former U.S. ambassador to Azerbaijan, another former Soviet republic facing pressure from Moscow in recent years.
"These tactics also infuriated European leaders as economic blackmail aimed at sabotaging EU foreign policy," Mr. Bryza wrote in a blog recently posted on the website of the Atlantic Council in Washington.
"What the Russians are playing is hardball and what the Europeans and the Americans are playing is softball," said Ariel Cohen, a senior research fellow for Russian and Eurasian studies at the Heritage Foundation. "Sending [Ms. Nuland] to Kiev to say 'play nice.' That's softball."
"Putin wants to re-create the Russian sphere of influence, calling it the Eurasian Union," he said. "Some people have compared it to the Soviet Union. Putin understands that he has very high stakes, where as the Europeans are not willing to pay the price and to play to him."
Putin fans the flames
Mr. Putin himself appeared eager to fan the flames Thursday, leveling veiled insults at Washington during his annual state of the nation address while denying that Moscow wants to do anything other than respect the sovereignty of its neighbors.
"We do not aspire to be called some kind of superpower, understanding that as a claim to world or regional hegemony," Mr. Putin said. "We do not infringe on anyone's interests. We do not force our patronage on anyone or try to teach anyone how to live."
Mr. Putin has become personally involved in the Ukraine fight, holding a little-reported meeting last week in the Russian resort city of Sochi with Mr. Yanukovych. Moscow wants Kiev to join a "customs union" it is creating as an alternative to the EU, including Ukraine and two other former Soviet republics, Belarus and Kazakhstan.