The windows of restaurants and businesses are often crowded with signs and stickers denoting store hours and accepted credit cards, but a Leesburg restaurateur is looking to add one more decal in the name of constitutional rights.
Bryan Crosswhite has created 2amendment.org, an online database where gun-rights businesses can register their names and addresses and get stickers for their windows that signal they are friendly to legal gun owners who exercise their right to bear arms.
"We want to make it something for business owners who are pro-Second Amendment," said Mr. Crosswhite, owner of The Cajun Experience. "A sticker on the door, just like Zagat [Survey], and that way people who want to do business with pro-Second Amendment companies will automatically connect with those Second Amendment companies."
---
SPECIAL COVERAGE: Second Amendment and Gun Control
---
The move comes after singer Toby Keith's I Love This Bar & Grill drew ire after posting a "no guns permitted" sign on its door.
The Woodbridge pub has been open less than a week, but already made national headlines after the owners decided to prohibit firearms in the restaurant.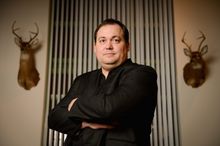 Mr. Crosswhite, 40, said about 10 businesses have signed on since the site went operational Sunday night. He said a phone app is in development and should be running within a month that will allow users to locate gun-friendly businesses nearby, similar to the way some websites locate restaurants for certain tastes and incomes.
The stickers — featuring the logo "2AO 2014" in gold letters against a black backdrop — have been ordered and will be given to companies as they register.
The website has gone online as the debate between gun-rights activists and gun-control supporters continues to roil communities. A restaurant in Woodbridge made headlines over the weekend by posting a "no guns permitted" sign on its door.
Mr. Crosswhite, who hosts a weekly Open Carry Wednesday at his establishment, said the website is not a reaction to the Woodbridge restaurant's move but a response to growing interest in showing support for gun-friendly businesses. He said he has received registration requests and support from insurance companies, coffee shops and firearm-training companies.
Baraka James, owner of the Lovettsville-based Modern American Shooting & Firearms, registered his business and is now helping Mr. Crosswhite run the site. His company teaches self-defense and basic pistol training. Mr. James, 41, said he developed an interest in firearm protection after his father was fatally shot during a home invasion.
"I'm an advocate of every law-abiding American citizen learning how to defend themselves with a firearm and carrying a firearm on a daily basis," Mr. James said. "I want to know the businesses they go to will welcome them."
Virginia law states that private property owners also have the right to prohibit guns in their businesses. The law is frequently associated with a statute that took effect in 2010 that allowed Virginia gun owners to carry concealed weapons into businesses where alcohol is served, as long as they don't drink.
The same year the Virginia law went into effect, Tennessee enacted a law allowing a person carrying a gun to enter a restaurant that serves alcohol unless the owner prohibits that person.
Ray Friedman, a professor at the Vanderbilt University Owen Graduate School of Management, began the Gun Free Dining Tennessee website that offers resources for restaurant owners and consumers looking for a firearm-free business.
"Most people don't want guns where there's alcohol," Mr. Friedman said. "Our site was based on the premise that if people had that information, they'd stay away from places that allowed guns and preference those places that didn't allow guns."