North Korea's third nuclear test has put the burden on China to punish its communist ally, but Beijing is unlikely to do anything to hurt Pyongyang, Asia analysts said Tuesday.
China said it "firmly opposed" the test, but it also urged a calm response from the international community.
"Beijing will react to this latest nuclear test in the same schizophrenic way it has reacted to Pyongyang's nuclear and missile tests since 2006," said John J. Tkacik Jr., director of the Future Asia Project at the International Assessment and Strategy Center.
---
SEE ALSO: Timeline: North Korea's pursuit of nuclear weapons
---
"It will issue some vague and meaningless remonstrance at the United Nations and call for a return to the feckless 'six-party talks,'" he said, referring to stalled negotiations involving North and South Korea, China, Japan, Russia and the United States aimed at shutting down Pyongyang's nuclear program.
"There's no reason to expect China's reaction will be any different this time."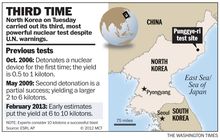 China's assessment of North Korea's stability will be a major factor in determining how Beijing responds to renewed international pressure to get tough with Pyongyang, said Scott Snyder, director of the Program on U.S.-Korea Policy at the Council on Foreign Relations.
"If China believes that North Korea is stable but going in the wrong direction, then China may be more willing to cooperate with the U.S.," Mr. Snyder said.
"But if China sees [North Korean leader] Kim Jong-un as having not yet consolidated his leadership, if they see weakness that could turn into instability, then it will be much more solicitous of North Korea and less willing to take the risk that any of its actions will induce instability," he said.
The Chinese reluctance to step up pressure on North Korea stems in part from a worry that it could cause the regime in Pyongyang to collapse and send thousands of refugees streaming across the border into China.
China calls for calm
The Chinese Foreign Ministry called on "all parties to respond in a cool-headed manner and persist in resolving the issue of denuclearization of the peninsula through dialogue and consultation within the context of the six-party talks."
The statement made no mention of any punitive measures for North Korea's actions. China provides much-needed aid to North Korea.
Expectations of a stronger Chinese response had been fueled by warnings in its state media that Pyongyang would pay a "heavy price" if it carried out a nuclear test.
"From what I read in the papers, the Chinese are thoroughly displeased that [North Korea] went ahead with the test, but it is anyone's guess if they will actually follow through and do anything about it," said Robert Kelley, the Vienna, Austria-based former director of the International Atomic Energy Agency, the United Nations' nuclear watchdog.
China opposed stronger sanctions against North Korea at the U.N. Security Council, but eventually supported a resolution in January that reprimanded Pyongyang for launching a rocket in December and imposed new sanctions.