President Obama set up the first major fight of his second term on Wednesday as he vowed to directly confront gun rights supporters and called on average Americans to back him in his bid to limit ammunition and semi-automatic firearms sales, expand background checks to all gun purchases and encourage doctors to ask certain patients whether they own guns.
Speaking little more than a month after the shooting rampage at Sandy Hook Elementary School in Newtown, Conn., Mr. Obama unveiled his proposals surrounded by victims' families and four children who had written him letters fearing they or their families could be the next targets of gun violence.
"This is our first task as a society, keeping our children safe," Mr. Obama said. "This is how we will be judged. And their voices should compel us to change.
"If there's even one thing we can do to reduce this violence, if there's even one life we can save, we have an obligation to try it."
Mr. Obama signed executive directives with 23 steps that he said his administration can take without action by Congress, including better information-sharing among federal agencies, educating gun owners on safety and assuring doctors that they can legally ask patients whether they own firearms.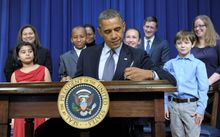 His proposals signal the beginning of the first major gun debate in years. If he is successful, it would be the first such legislation to pass in Washington in two decades.
But some key Democrats were cool to his ideas, and many Republicans — who control the House of Representatives — warned of a bitter fight ahead, saying Mr. Obama is disregarding the Second Amendment's guarantee of the right to bear arms.
"Nothing the president is proposing would have stopped the massacre at Sandy Hook," said Sen. Marco Rubio, Florida Republican. "Making matters worse is that President Obama is again abusing his power by imposing his policies via executive fiat instead of allowing them to be debated in Congress. President Obama's frustration with our republic and the way it works doesn't give him license to ignore the Constitution."
Other Republicans accused Mr. Obama of interfering with the doctor-patient relationship by making clear that physicians can ask their patients about guns, especially if the patients show signs of mental illness, or have a young child or mentally ill family member at home.
NRA pushback
The National Rifle Association, the nation's most powerful gun rights lobby, issued a statement saying Mr. Obama was on the wrong track in his response to the massacre at Newtown.
"Attacking firearms and ignoring children is not a solution to the crisis we face as a nation," the group said. "Only honest, law-abiding gun owners will be affected and our children will remain vulnerable to the inevitability of more tragedy."
Doubling down, the group also released a 4½-minute online video showing media figures criticizing NRA Executive Vice President Wayne LaPierre's news conference last month in which he called for more armed guards in schools. Some of Mr. LaPierre's remarks were part of the video.
"The media speaks for elites," a deep-voiced narrator says. "America speaks for itself."
More pointedly, the video criticizes the president as an "elitist hypocrite" for expressing skepticism about armed guards in the nation's schools while allowing his own daughters to be protected by armed Secret Service agents at the private school they attend.