Fracking is going global.
The U.S. energy industry clearly still leads the way on the revolutionary drilling method that has upended global energy markets, but the rest of the world is beginning to catch up as nations seek to replicate American success in oil and natural gas development.
Taking the lead in Europe, Poland plans to begin producing shale gas using hydraulic fracturing, commonly known as fracking, as soon as next year, the country's treasury minister said recently. More than 100 exploration concessions to more than two dozen companies have been awarded, and the Polish State Geological Institute estimates that the country's shale gas deposits may secure domestic production for at least 25 years. Britain has lifted a moratorium on fracking that was imposed after a previous operation was blamed for sparking an earth tremor.
Argentina, the largest producer of natural gas in South America, is eyeing the practice on a significant scale to better exploit its supply.
Fracking uses water, sand and chemicals to break underground shale formations and release fuel. The technique has been key to economic revivals in localities across the U.S. and has helped domestic oil and gas production skyrocket. International competitors now want in on the action.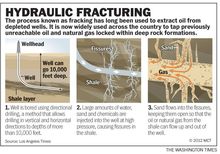 "Everybody around the world has taken notice the past few years. They're taking notice and starting to wonder if they can get a part of the same energy revolution that we have here," said Daniel Simmons, an energy scholar at the Institute for Energy Research, a Washington-based think tank and research organization.
In November, the independent Beijing-based publication Caixin reported on a secret Chinese white paper saying the Asian superpower is planning a "huge fracking industry" and that "the model for China's anticipated success is the U.S. shale gas sector."
The same month, Fort Worth, Texas-based FTS International Inc., a leading fracking equipment company, announced the signing of joint venture deals with partners in Saudi Arabia and Brazil.
Saudi Arabia, in particular, has reason to examine U.S. drilling success. The International Energy Agency recently reported that American oil production will surpass Saudi Arabia's to become the globe's single biggest producer of oil and natural gas as soon as 2020, putting North America on track to becoming energy-independent.
European pacesetter
Fracking offers a similar path for nations such as Poland, which are dependent on foreign suppliers they do not fully trust.
"That's what is driving them to look for shale gas in that part of the world, so they get out from under the Russians' thumb when it comes to energy," Mr. Simmons said. "Some of those countries that are really dependent on Russian natural gas are much pro-hydraulic fracturing."
But much like the policy and regulatory fights in the U.S., resistance to fracking has sprung up in other parts of the world. France and Bulgaria have banned the practice. The European Union is in the midst of a broad study on the safety of fracking, with results expected sometime next year.
Following in the footsteps of similar American groups, Irish environmentalist opponents of fracking have started "Fracking Free Ireland." The group's motto: "Keep the frogs in and the frackers out."
Global organizations no longer are targeting only the U.S. in the effort to slow down fossil-fuel development. They are expanding their efforts, keenly aware that fracking soon will be more than an American phenomenon.