A slight smile finally brightened Jim Haslett's hardened countenance after midnight Monday morning. His wife, Beth, and daughter, Kelsey, walked alongside him up the ramp that leads from the Washington Redskins' locker room out of FedEx Field. Haslett's defense had just helped the Redskins complete an historic turnaround, and the afterglow was in full effect.
Haslett didn't view it from that perspective, though. He's a football player at his core. Leave the grandiose analysis to others. He cared only about the final result: Redskins 28, Dallas Cowboys 18. Washington's maligned defense, his defense, had survived early-season injuries and ineptitude to become NFC East division champions.
A few steps ahead of the Hasletts, a man whipped around to greet him. Wale, a nationally known hip-hop artist, D.C. native and renowned Redskins fan, had to congratulate the defensive coordinator.
"Coach Haslett, Wale," he said, reintroducing himself. "Great job."
"Oh yeah, the rapper!" Haslett belted out, much to his daughter's amusement. "Thanks." They shook hands and hugged.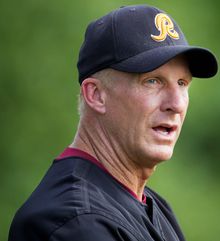 What a sight: a local celebrity going out of his way to praise Jim Haslett, the subject of so much vitriol on talk radio and Twitter during the Redskins' 3-6 start. Only seven weeks earlier, coach Mike Shanahan faced questions about whether his coaching staff would remain intact during the bye week.
But Haslett, as it turned out, helped save this charmed season. He and his assistants brainstormed and tinkered to help the Redskins overcome injuries to key players. Now the defense has significant momentum entering Sunday's playoff opener against the Seattle Seahawks.
"We were kind of lost for a little while trying to find our way," Haslett said Thursday. "Then guys have stepped up and done a nice job playing."
While the Redskins during the 2012 offseason used their penalty-reduced salary cap space to add a slew of playmakers to their sputtering offense, Haslett sought to progress with last year's personnel. But season-ending injuries to first-string linebacker Brian Orakpo, defensive end Adam Carriker and strong safety Brandon Meriweather — each of whom has a first-round draft pedigree — sent the defense reeling.
They surrendered 27.6 points per game and a whopping 6.22 yards per play during Washington's 3-6 start. Haslett faced heavy fan criticism.
"We had a lot of changes in personnel and a lot of ups and downs, and his demeanor stayed the same," nose tackle Barry Cofield said. "He was a good leader for us."
That stemmed partly from accountability, defensive lineman Kedric Golston said.
During the tumult, players publicly accepted blame for mistakes. Haslett was honest with players in his evaluations, but he also pointed the finger at himself when appropriate.
"He'll say, 'I made a bad call. It's on me,'" Golston recalled. "I think players understand because as players, you get corrected so much. When a coach can admit, 'I'm human, too. I made a mistake,' you just want everyone to be accountable because we're all in it for the same reasons."
As the defense continued to struggle, Haslett and his assistants strived to find solutions.