Lon Snowden's anguish over his son, Edward Snowden, is turning into something else he didn't expect: disillusion with a government he once proudly served.
"I'm an American citizen who has lost faith in many of the leaders on both sides of the political aisle," Mr. Snowden said during an interview with The Washington Times.
A decorated Coast Guard officer, the elder Mr. Snowden says he, like his son, once "walked the halls of the National Security Agency." He is disappointed with his son's betrayal of his oath of secrecy as an NSA contractor and concerned that his son may spend life in prison.
---
SEE ALSO: Donald Trump on Edward Snowden: Kill the 'traitor'
---
Yet now, just a few weeks after demanding his son's return home to face punishment, he is increasingly ambivalent about the younger Mr. Snowden's disclosure of some of the government's most prized secrets about its global surveillance activities.
"If my son was exposed to information that made him believe that the U.S. Constitution was being violated, then the unauthorized release of classified information is certainly not unconstitutional, and the Constitution is the highest law of the land," Mr. Snowden said.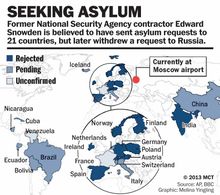 Each day brings another revelation in the family's saga. On Monday, the younger Mr. Snowden revealed he is seeking asylum in Russia and issued a statement accusing President Obama of employing "old, bad tools of political aggression" to force his return to the United States to face felony criminal charges.
---
SEE ALSO: India rejects NSA leaker Edward Snowden's plea for asylum
---
A family in crisis
The swirl of feelings is tearing Lon Snowden apart emotionally, and the cost of hiring attorneys to help his son threatens to wreck the family financially as well.
"My son has made his own bed," Mr. Snowden said Friday in one of a series of interviews with The Times over several days. "I have three other children to worry about. You won't believe what these attorneys wanted in money from me just to see what is possible with the government."
Now retired from the military and living in Pennsylvania, Lon Snowden told The Washington Times that his son had begged him in an email Thursday not to talk to the press, warning that doing so would further jeopardize Edward Snowden's situation.
Nonetheless, Mr. Snowden, at the behest of one of his attorneys, Bruce Fein, did a TV interview Friday during which he said he was shocked to see that the reporter had a copy of a letter Mr. Fein had sent to Attorney General Eric H. Holder Jr. laying out conditions for Edward Snowden's return to the U.S.: no confinement until trial in a place of his choosing and no gag order.
Such negotiations with the government are normally conducted in complete privacy. The elder Mr. Snowden said he wasn't pleased by the release of the letter.
Mr. Snowden expressed in several phone conversations his continuing anger over his son's stealing and publishing of top government secrets, and his fleeing to China, then Russia, rather than accepting the legal consequences of what Edward Snowden's defenders call whistleblowing.
"I have lost a son as a result of this. He's gone. I'm probably never going to see him again. That's where I am," the father said.
In formal interviews, phone calls and email and text messages, Lon Snowden also made clear that he loves his country.