House Republican leaders powered through a slimmed-down farm bill Thursday, dropping the food stamp program from the measure and leaving the rest of the bill, which maintains the farm subsidies system that props up U.S. agriculture.
The 216-208 vote delivered a much-needed victory to Speaker John A. Boehner and Majority Leader Eric Cantor, who saw their last version of the farm bill — which included the food stamp program, known as the Supplemental Nutritional Assistance Program (SNAP) — fail last month when conservatives said it was too generous and Democrats said it was too stingy.
Republican leaders still say the food stamp parts of the bill can be rescued either by passing a separate bill or by putting the provisions back in when the House meets to negotiate a final compromise with the Senate, which passed a farm bill containing both subsidy and food stamp language.
---
SEE ALSO: Democrat Corrine Brown: Bible tells us to provide food stamps
---
Rep. Frank D. Lucas, Oklahoma Republican and Agriculture Committee chairman, pledged that his committee will work in a bipartisan manner on the nutrition measures left out, but added that "I can't guarantee you what the product will look like coming out of the committee or across the floor."
The bill would effectively end direct payments to farmers and cut farm subsidies by about $1.3 billion a year, according to the CBO. It also contains language to repeal archaic production and price provisions for some commodity products, such as milk and cotton.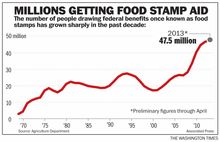 Absent passage of that language, a decades-old "permanent law" governing such prices would kick in this fall that could cause commodity prices to jump.
Rep. Pete Sessions, Texas Republican and chairman of the Rules Committee, said splitting the bill "in no way seeks to marginalize the importance of the nutrition programs."
But Democrats said the message from House Republicans was clear.
"Mitt Romney was right — you don't care about the 47 percent," Rep. Corrine Brown, Florida Democrat, admonished them on the floor. "Shame on you!"
Funding for food stamps can still be continued through the annual spending bills, even without the farm bill's passage.
All of the Democrats present voted against the bill, as did 12 Republicans.
Mr. Cantor called the vote "a victory for farmers and conservatives who desired desperately needed reforms to these programs."
But Sen. Debbie Stabenow, Michigan Democrat and chairwoman of Senate Agriculture, Nutrition and Forestry Committee, said the bill is "an insult to rural America."
"We will go to conference with the bipartisan, comprehensive farm bill that was passed in the Senate that not only reforms programs, supports families in need and creates agriculture jobs, but also saves billions more than the extremely flawed House bill," she said.
The White House budget office also issued a veto threat for the bill Wednesday evening, citing the food stamp issue and saying the bill doesn't reform the commodity and crop insurance programs enough.