Panamanian authorities have charged the crew of a North Korean-flagged freighter that was smuggling fighter jets and air-defense missiles from Cuba, and they have asked the United Nations to inspect the cargo to see if the crew was violating international sanctions against Pyongyang.
The 35 crew members will face charges under Panamanian law for endangering public safety by not declaring the munitions aboard, prosecutor Javier Caraballo told reporters.
The 509-foot freighter, the Chong Chon Gang, "never declared war materiel, and that in itself is a violation of the rules and a grave danger for the transit through the Panama Canal," Mr. Caraballo said, according to BBC News.
---
SEE ALSO: Panama finds air defense missiles on North Korean freighter
---
"This type of behavior could carry a sentence of between four and six years," he said, according to Agence France-Presse, noting that the crew had declined to speak with investigators.
"The crew have been totally uncooperative," said Steve Atkiss, a former senior U.S. Customs official who now advises the government of Panama.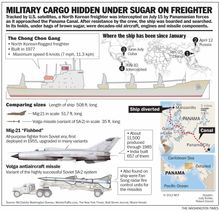 Mr. Atkiss, who works for the Command Consulting Group in Washington, said the crew had "set the ship's electronic control system on fire" when it was boarded.
The fire disabled a crane that unloads the ship, requiring 10,000 tons of sugar to be removed manually from the cargo hold.
Mr. Atkiss said it is not unprecedented for the entire crew to be charged.
"In a situation where there's illicit activity aboard, the crew are subject to charges, depending on the degree to which they are complicit," he said.
The crew has been in custody since the North Korea-bound ship was boarded last week as it was transiting the Panama Canal.
Authorities said they had received a tip from intelligence sources that drugs could be on board.
After several days of searching — and the removal by hand of many thousands sacks of sugar — Panamanian officials found a fire-control radar set for a high-altitude anti-aircraft missile system, and the country's president tweeted a picture of it Monday evening.
Cuba admitted Tuesday that the radar, nine missiles "in parts and spares," two MiG fighters and 15 fighter jet engines were among 240 tons of undeclared weapons on board.
As punishment for its relentless pursuit of illegal ballistic missile and nuclear weapons technology, North Korea is subject to almost a complete U.N. Security Council arms embargo, which prohibits the sale and/or transfer of almost every kind of weapon except small arms.
U.N. investigators are expected to arrive at the end of July once the ship has been unloaded, Mr. Atkiss said.