The latest edition of al Qaeda's English-language online magazine Inspire urges readers to become "lone wolf" jihadists focused on assassinating current and former leaders of Western countries.
"It is easy," an al Qaeda "consultant" writes of killing the U.S. or French president.
"These people have many weak points, especially during parties, ceremonies and election campaigns."
In the article titled "You ask, we answer," the consultant says that "individual mujahids" or holy warriors, who are daunted by the task of killing current world leaders should consider murdering their predecessors.
"If you think you are unable," the consultant writes "then you have easy targets like [former U.S. Presidents George W.] Bush [and] Bill Clinton, [and former U.S. Secretaries of State] Colin Powell and Condoleezza Rice, … [as well as former French President Nicholas] Sarkozy and [former British Prime Minister] Tony Blair.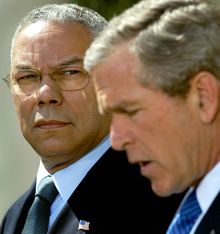 "It is now easy to reach these guys, especially since they aren't in office anymore."
The 64-page edition of Inspire, the first since May 2012, is the tenth released by the terror group's Yemen-based affiliate, al Qaeda in the Arabian Peninsula (AQAP).
A copy was made available to The Washington Times by the Middle East Media Research Institute or MEMRI, a non-profit that monitors and translates Islamic extremist messaging.
Like previous editions, this one focuses on individual or "lone wolf" jihadists, urging them to commit minor acts of terror that more closely resemble simple vandalism, like setting fire to parked cars.
The new edition also includes material from two American-born al Qaeda jihadists. There are excerpts from what is touted as an "exclusive interview" with Adam Gadahn, believed by U.S. officials to be with al Qaeda's central command on the Afghan-Pakistan border.
The article deals with the Arab spring, and there is no information given about where or when the it was conducted. However, Mr. Gadahn makes no reference to the attack on the U.S. diplomatic post in Benghazi, Libya, last Sept. 11, and refers to events in that country as an "uprising" not a "revolution." This strongly suggests that it predates at least last September's attack, and possibly even the 2011 toppling of Libyan strongman Col. Muammar Gadhafi.
Mr. Gadahn, a teenage convert to Islam raised on a goat farm in California, warns Western governments against "meddling" in the wave of popular revolts known as the Arab spring, and urges readers, "Let's continue to bleed the head of unbelief dry," by attacking and undermining the economies of the Western powers.
The magazine also features a letter said to be written by Samir Khan, the magazine's founder and principal AQAP propagandist, before he was killed in Yemen in September 2011 in a U.S. drone strike.