It's been a rough few years for the coal industry, with President Obama and environmental groups seemingly bent on driving it out of business. But for coal, all the world's a stage — and a market.
While Mr. Obama has vowed to keep ratcheting up the regulation of coal-fired power plants in the U.S., forcing hundreds to close, nations from Europe to the Far East are hungry for coal, and their demand is only going to get stronger in the years ahead as more nations turn to coal as a primary source of power.
Coal by 2030 will be the most widely used fuel worldwide as developing countries electrify burgeoning cities and rural areas where billions of people have had no or little access to power, according to the International Energy Agency.
---
SPECIAL COVERAGE: Energy and Environment
---
The U.S., Europe and Japan may debate the merits of coal versus nuclear, natural gas, wind and other cleaner fuels, but for developing countries that have considerably less income and wealth to pay for power projects, those more-expensive sources of power are rarely realistic alternatives. For this vast swath of humanity, coal remains the main or only alternative to improve their lives with a reliable energy source.
"For a vast multitude of the human race, the world is a dark place," said Frank Clemente, a retired Pennsylvania State University professor. "Over 1.2 billion people lack any electricity and another 2 billion or more have inadequate access to power. A key goal of the Copenhagen accord of 2010 is to provide energy to these impoverished populations. Coal is the only fuel that can sustainably meet growing global demand at such a scale."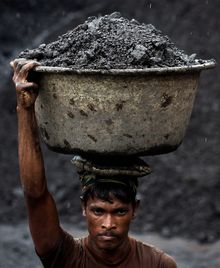 The door may be shutting on many aging coal-fired power plants in the U.S., but coal has shown a modest revival in Europe and roaring growth in Africa, Asia and the rest of the developing world as it remains the cheapest and most reliable source of power. Coal already provides 41 percent of the world's power and that is set to grow significantly, according to the international agency.
In China, coal fuels 80 percent of electric generation, and the country in the past five years has added more coal plants to its grid than the entire fleet of U.S. power generators. China's appetite for coal is so voracious that it soon will consume more coal each year than the rest of the world combined, according to the U.S. Energy Information Administration.
Markets burgeon overseas
That makes the opportunities for U.S. coal companies — custodians of the world's largest national coal reserves — seemingly limitless outside U.S. borders.
"South Africa is bringing millions out of poverty with a coal-based economy," said Mr. Clemente, and the world has never experienced such an appetite for coal as seen in Asia's rising powers.
While China is drawing on its own considerable reserves of coal to fuel its power plants, growth there has been so rapid that it also is sucking in imports at a brisk pace. India is second only to China in building coal plants to feed exponential growth in power demand, and even more than China, it must rely heavily on imports to fulfill its large and growing needs.
China and India, in turning to coal as their principal means of providing electricity to billions of upwardly mobile citizens, hope to avoid some of the problems with toxic emissions experienced in years past in the West. The power plants they are building today are far cleaner and more efficient than the ones being retired in the U.S., Mr. Clemente said.
"By 2015, 50 percent of the world's most efficient coal power plants will be in China or India" as those nations turn increasingly to coal to satisfy their immense energy needs, he said.
Elliott Gue, an energy investment adviser, agrees that reports about the death of coal have been greatly exaggerated in view of the world's growing demand for electricity and coke, a byproduct of metallurgical coal that is used to make iron and steel.
"King Coal still sits on the world's power throne," he said. "Coal-fired plants in both the U.S. and global markets will continue to provide the bulk of base load power generation for years to come."